Discover more from On The New Silk Road
Journeying Through China's Artery Of Power
An Inside Look At The New Crossroads Of Eurasia: Azerbaijan's New Port Of Baku
A journey into the crossroads of Eurasia.
The place was literally and figuratively a crossroads. It wasn't just the point where north-south highways and rail lines met their east-west compliments but the turning point of an entire nation going in a new direction.
Extending out from the west bank of the Caspian Sea, the New Port of Baku at Alyat sits within 20 square kilometers of barren brown desert that's become fertile ground for some very big dreams. Positioned 65 kilometers south of the central core of Azerbaijan's capital city of Baku, the new port is emerging as a full-fledged intermodal transportation hub and free trade zone that's primed to become a major station along the New Silk Road — the nascent grid of enhanced economic corridors spanning the Eurasian landmass, from China to Europe.
The creation of this new logistics junction isn't just a move to keep in step with the times but is one that is being taken out of absolute necessity: Azerbaijan has roughly 30 years of oil left, and the country is placing an all or nothing bet on its newly emerging transportation economy. Starting in the 2000s, Azerbaijan embarked upon a national program to rejuvenate its transportation infrastructure in a bid to renew its ancient relevance as a key logistical node in the heart of Eurasia. New highways and rail lines were laid across the country, and in 2007 it was decided to take the initiative a little further and move the Port of Baku, which at that time sat in the crowded city center, out to the town of Alyat, where it would be right at the crossroads of Azerbaijan's main transportation corridors -- in a place where there was nothing if not room to grow.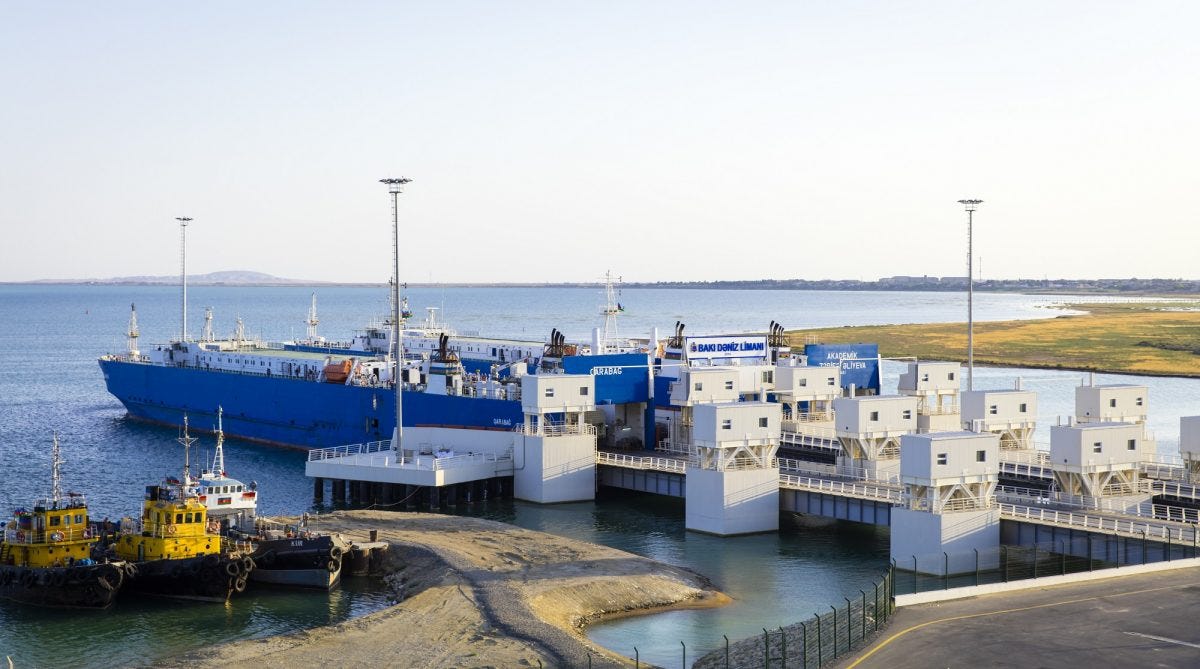 The ferry terminal at the New Port of Baku at Alyat. Image: New Port of Baku.
This new port was set up to be the center of Azerbaijan's new logistics economy and the predominant driver of its broader economic diversification initiative. It was to become a Caspian Sea port, a road and rail transport terminal, and a free trade zone all rolled into one and administered under the umbrella of its own special legal regime.
"We don't view the Port of Baku as just a port," explained Taleh Ziyadov, the port's Cambridge-educated director-general. "It is a project that we believe is not only going to have one of the major contributions to Azerbaijan's non-oil economy and diversification but also have a transformational impact on the region as a whole."
The new port and FTZ at Alyat is currently a main station along the Transport Corridor Europe-Caucasus-Asia (TRACECA), which connects Europe with Central Asia and China, and is also a key stop on north-south transport routes which link Russia with the Middle East and Indian Ocean. The New Port of Baku is attempting to establish itself as a middle of the world type of place — a "hub of hubs" where Russia, Iran, Europe, Central Asia, the Caucasus, and China can be linked together.
As in the days of the ancient Silk Road, a new network of logistics, trading, and manufacturing centers are emerging across Eurasia in places such as Khorgos and Aktau in Kazakhstan, Anaklia in Georgia, Bandar Abbas in Iran, Terespol municipality in Poland, and Chongqing, Chengdu, and Lanzhou in China. Only this time rather than being built around trade markets they are being built around ports. New sea and dry ports are being leveraged as economic drivers that can support not only logistical functions but also entire commercial, industrial, and residential ecosystems — i.e. entirely new cities.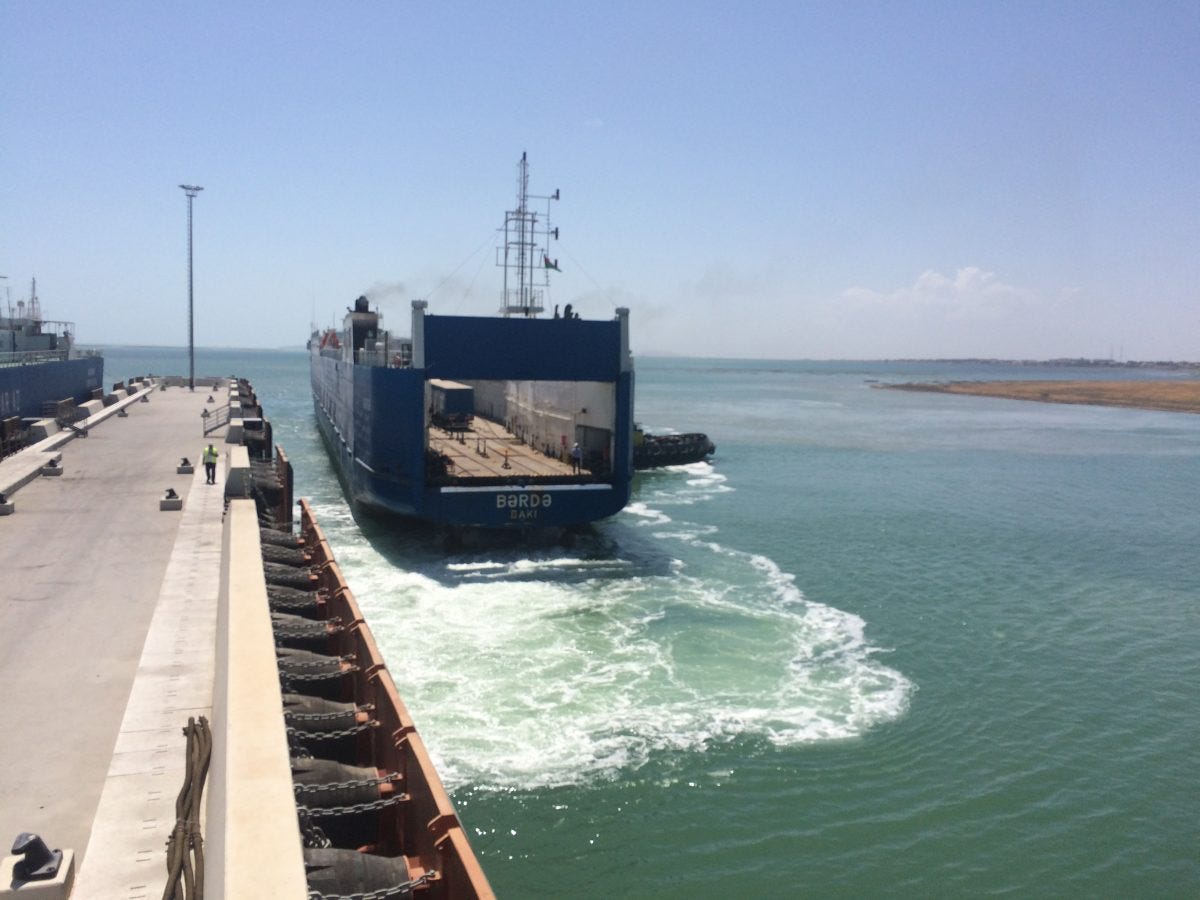 Ferry arriving at the New Port of Baku at Alyat. Image: Wade Shepard.
The dominant model for this type of transport-oriented development is clearly the Jebel Ali Free Zone (JAFZA) in Dubai — a booming economic zone that was intentionally built "in the middle of nowhere" around a port that sparked the creation of an entirely new, multi-faceted, and economically dynamic urban area in a matter of decades. From the Kazakh borderlands of China to the eastern fringes of Europe, I've heard government officials, port directors, developers, and CEOs state proudly that they are building "new Dubais." At the New Port of Baku, the mission is very much the same.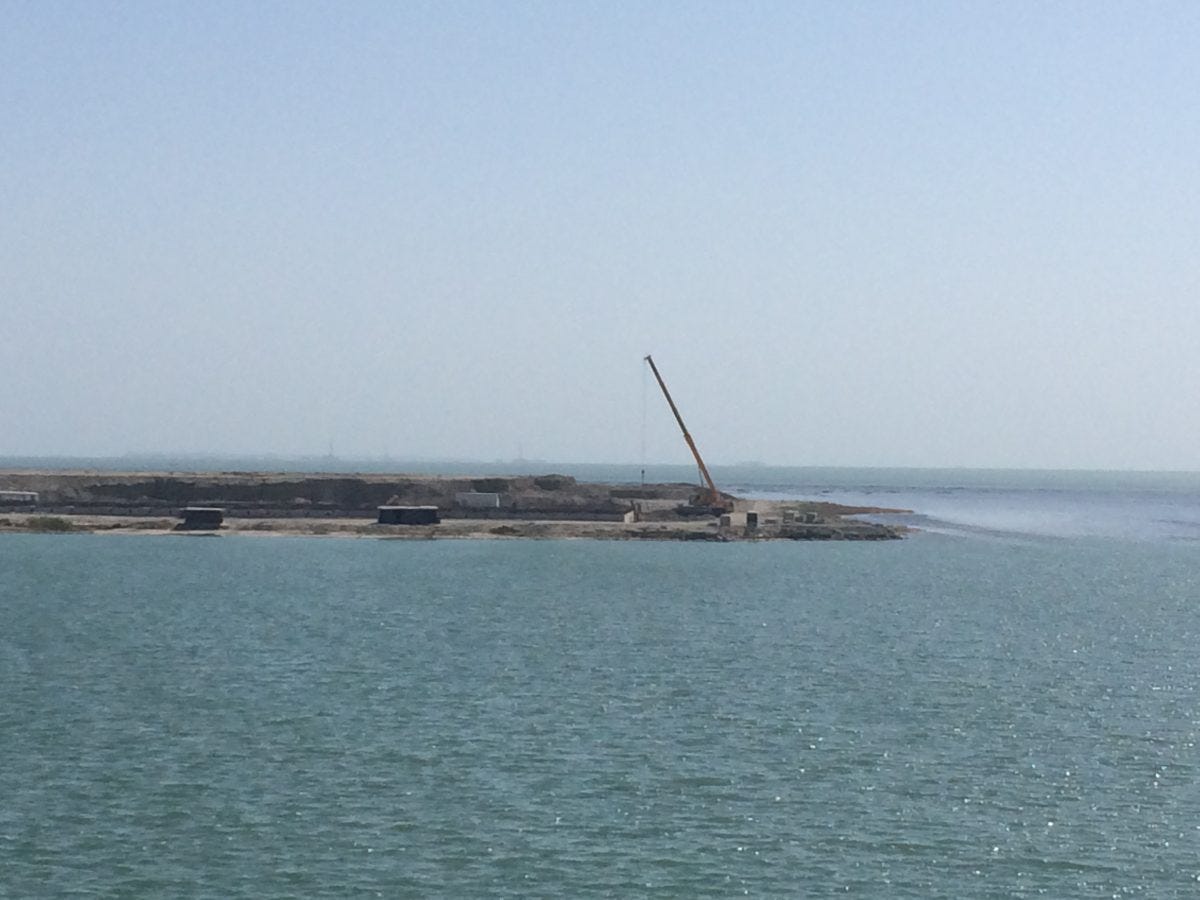 Construction on new terminals is currently in progress at the New Port of Baku. Image: Wade Shepard.
Though technically within the municipal bounds of Baku, from the looks of Alyat township, where the new port is located, it may as well be a world away. Its modest assemblage of shoddily assembled brick and corrugated steel-roof homes are nothing like the soaring, uber-modern steel and glass high-rises and skyscrapers of the capital's central core. But big changes are expected to come to Alyat very soon.
"In 10, 20 years time Alyat is going to emerge as a Jebel Ali city of Baku," Ziyadov explained. "Alyat is currently about 10, 12 thousand people, but with all the development that is going to take place around the port in the free trade zone it obviously will generate new workplaces, new apartments will emerge, new schools will emerge, new businesses, new spillover effect of this free trade zone in this city will change entirely the urban stature of this place. Instead of a small town you will have quite a considerable, sophisticated, satellite town that is going to be emerging as a hub along central Eurasia."
In September, it was announced that DP World, the Dubai company responsible for the Jebel Ali Free Zone has signed on as the main adviser for the New Port of Baku's FTZ. This is a fitting move, as DP World is also involved in developing similar "JAFZA-like" projects at other key junctions along the emerging New Silk Road, including the Khorgos Special Economic Zone in Kazakhstan.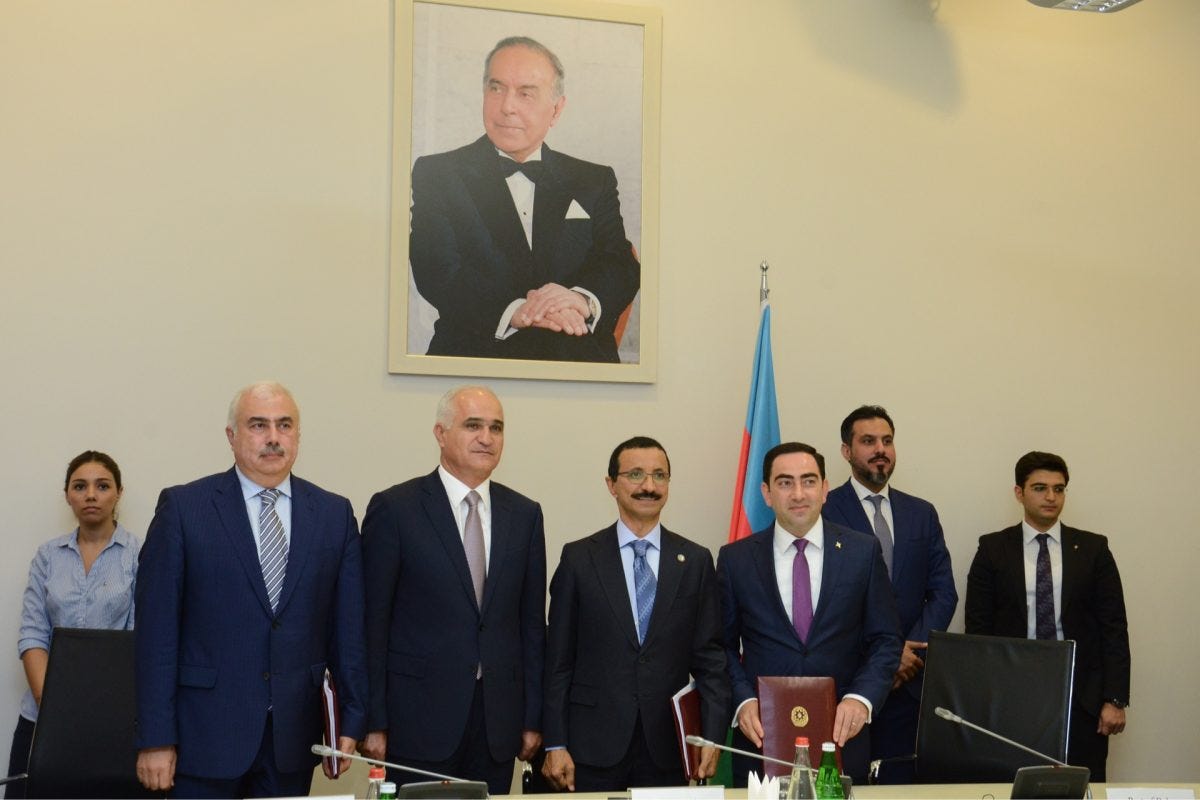 The signing of the contract making DP World the primary consultant for the development of the New Port of Baku's FTZ. Image: New Port of Baku.
Currently, one of the most evident sign of Azerbaijan's revived logistical position is found in the Port of Baku's prominent role along the nascent southern transport corridor of the New Silk Road, which connects China and Europe via the Caucasus/ Caspian region. While the bulk of the rail traffic through the new port is regional, approximately 19 trans-Eurasian trains have rolled through. The entire intermodal journey between China and Europe via Baku takes roughly 15 days in either direction, which is two to three times faster than sea at a fraction of the cost of air.
While 95% of trade between China and Europe goes by sea, completely bypassing Azerbaijan, the type of cargo that goes overland by rail is generally high-value goods, such as electronics, specialty produce, meat, wine, and fashion items that need to be delivered fast. This can provide an opportunity for Azerbaijan to cash in on some essential value-added functions, which is where the giant free trade zone that surrounds the port comes in.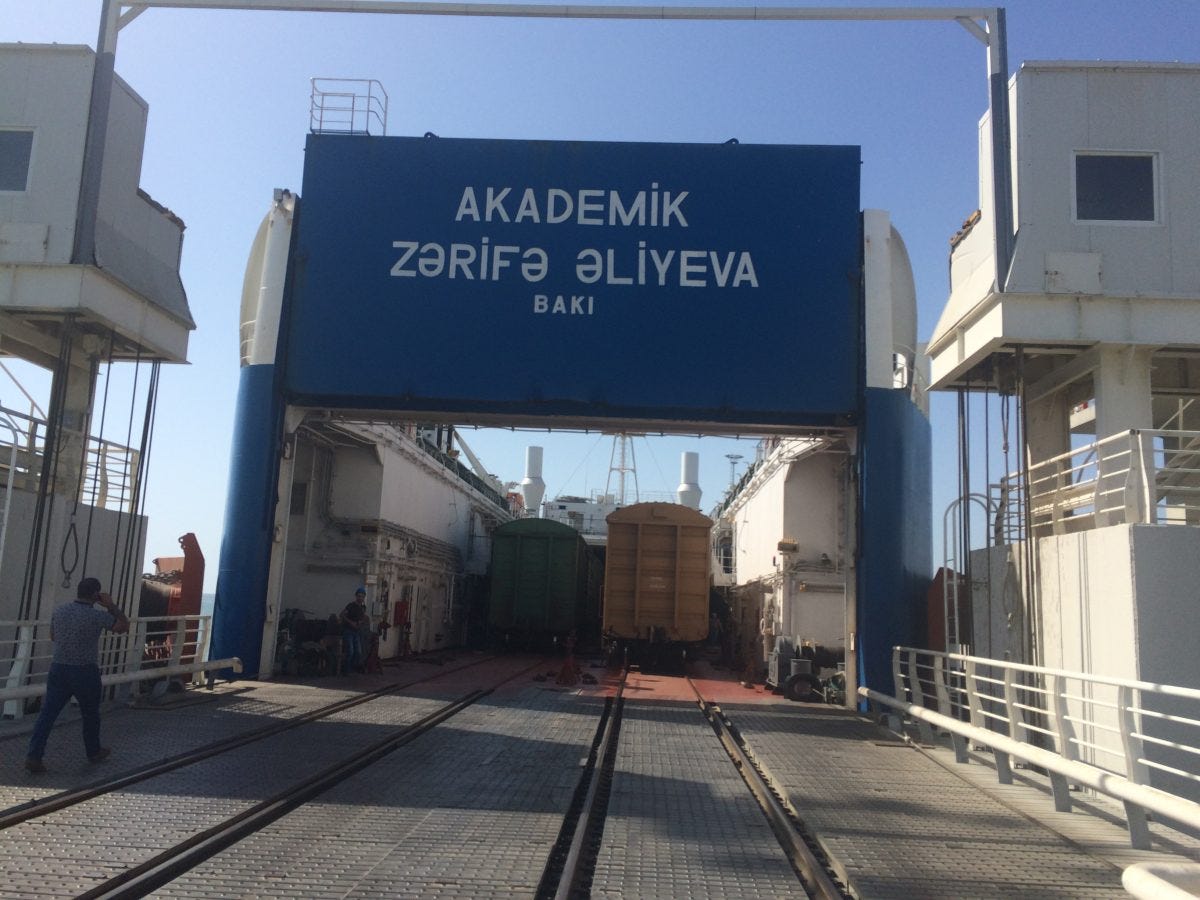 Loaded train wagons are pulled directly on board the ferries. This is one of just 30 rail ferry systems in the world. Image: Wade Shepard.
Among other non-oil sector manufacturing operations, one of the goals of the Port of Baku's FTZ is to leverage Azerbaijan's natural supply of petrochemical feedstock into an epicenter of plastics production and distribution.
"Your iPhones, anything that you wear, your glasses, etc. are made of some sort of petrochemical feedstock," Ziyadov said. "Factories that are producing using this feedstock will gladly be located close to these sources."
Like neighboring Georgia, Azerbaijan is trying to maximize its geographic position in the center of the Eurasian landmass to its economic advantage. Being roughly halfway between China and Europe, one of the Port of Baku's biggest selling points is that companies can manufacture products closer their supply sources as well as the markets they serve — and often under advantageous regional customs agreements.
Rather than just being a network of trans-continental trade routes that merely get products between industrial starting points in China and consumer endpoints in Europe, intermediary industrial hubs are emerging at every station along the various routes of the New Silk Road — often in places that previously had little semblance of such activity before. Essentially, a portion of Eurasia's manufacturing capacity is being spread from coastal regions in China and Western Europe farther inland, eventually meeting at places in the middle like Baku, which will add more dynamism and versatility to the entire continent's supply chains.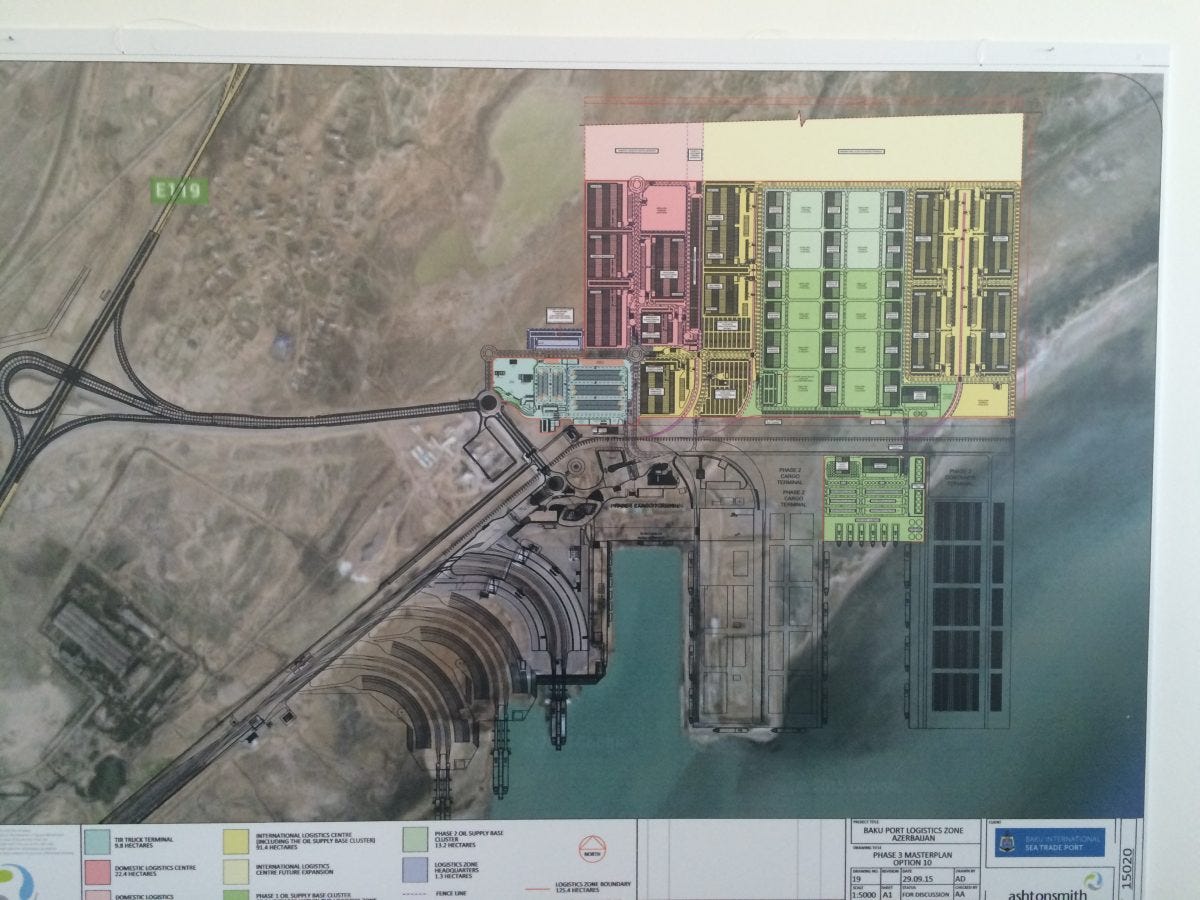 Master plan for the New Port of Baku and accompanying FTZ. Image: Wade Shepard.
The master plan for New Port of Baku was designed by Royal HaskoningDHV, a prestigious 135 year old Dutch infrastructure development firm.
The 400 hectare port and FTZ will be built in three phases. In November of 2010, Azerbaijan's President Ilham Aliyev laid the first stone of phase I, which is expected to have an annual capacity of 10 million tons of cargo and 50,000 TEU by 2017. Phase II will up this capacity to 17 million tons and 150,000 TEU. While phase III will ultimately see a large-scale inland port with a yearly capacity of 25 million tons of bulk cargo and 1 million TEU.
The current incarnation of the New Port of Baku is very similar to the old port that was once in the center of the city. It is essentially a two-berth train ferry terminal with regular services to Aktau in Kazakhstan and Turkmenbashy in Turkmenistan on the other side of the Caspian (one of just 30 such train ferry systems in the world). Surrounding the ferry terminal is an expansive lot for trucks and a depot for trains.
I arrived on a hot summer day just as a ferry was being loaded. A draw bridge was lowered and connected to the end of the ferry, a set of tracks ran fluidly from the shore into the belly of the ship. Slowly, rail wagons loaded with containers and bulk cargo like coal, agricultural products, and sugar were rolled onto the boat. The larger ferries can hold up to 52 wagons, which are divided between two floors. In three hours the ferry was loaded; 21 hours later it was on the other side of the Caspian in Kazakhstan.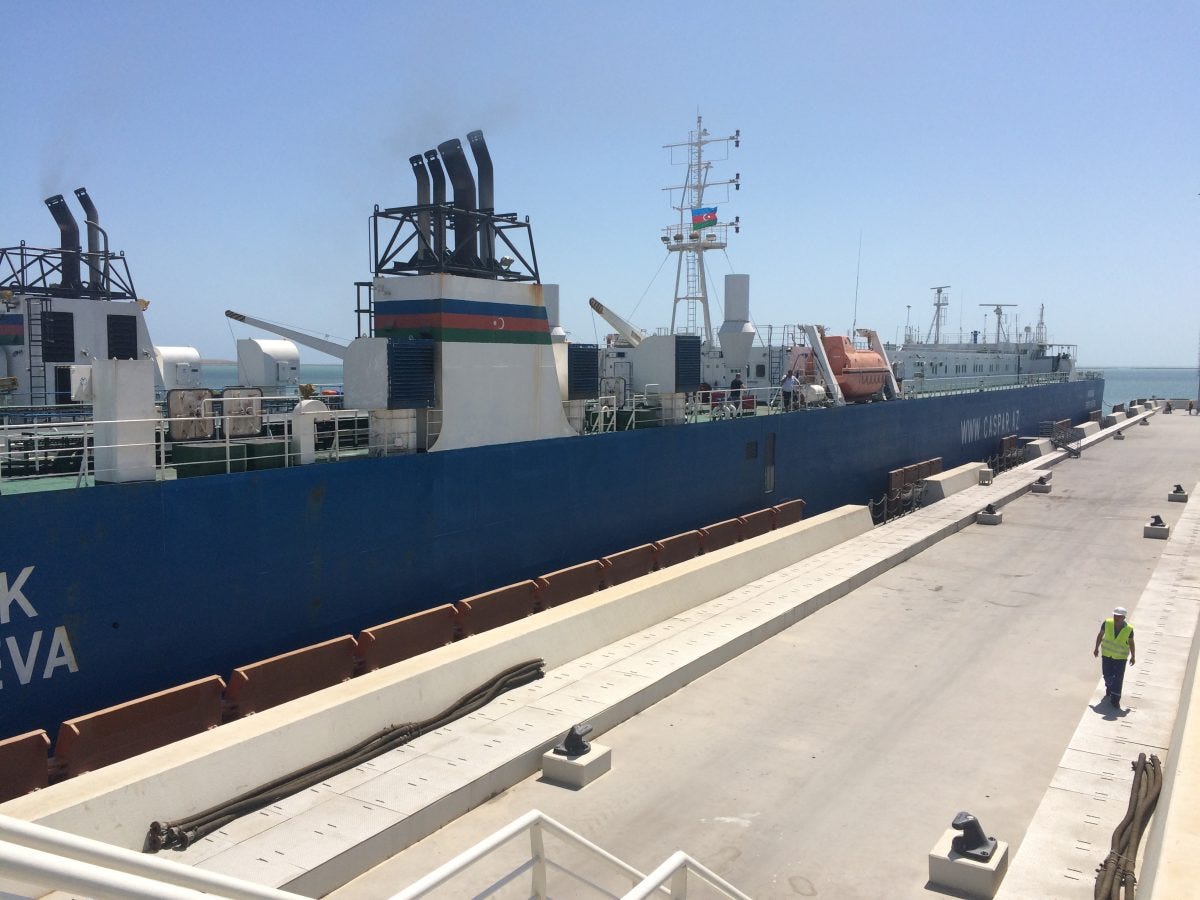 Ferry at the New Port of Baku at Alyat preparing to depart for Aktau. Image: Wade Shepard.
As of now, there is still an excess of barren dirt lots surrounding the ferry terminal at the New Port of Baku. From the ferry docks you can see backhoes and construction equipment at work on other terminals and the FTZ beyond. But in this era of rampant infrastructure development, lots of dirt often means lots of something else: potential.
"You need to have vision to come here," said Eugene Seah, the Singaporean operations manager at the New Port of Baku. "You can say that we are landlocked, which we are if you think that things are like this and don't imagine that things can change."
Change is what Azerbaijan is currently all about as the country attempts to make a monumental turn at a historic crossroads.