Discover more from On The New Silk Road
Journeying Through China's Artery Of Power
China And Japan's 'New Great Game' Intensifies In Myanmar
Myanmar has become the next staging ground for the "new great game," where position is gained via powerful countries making big infrastructure development deals rather than with armies on battlefields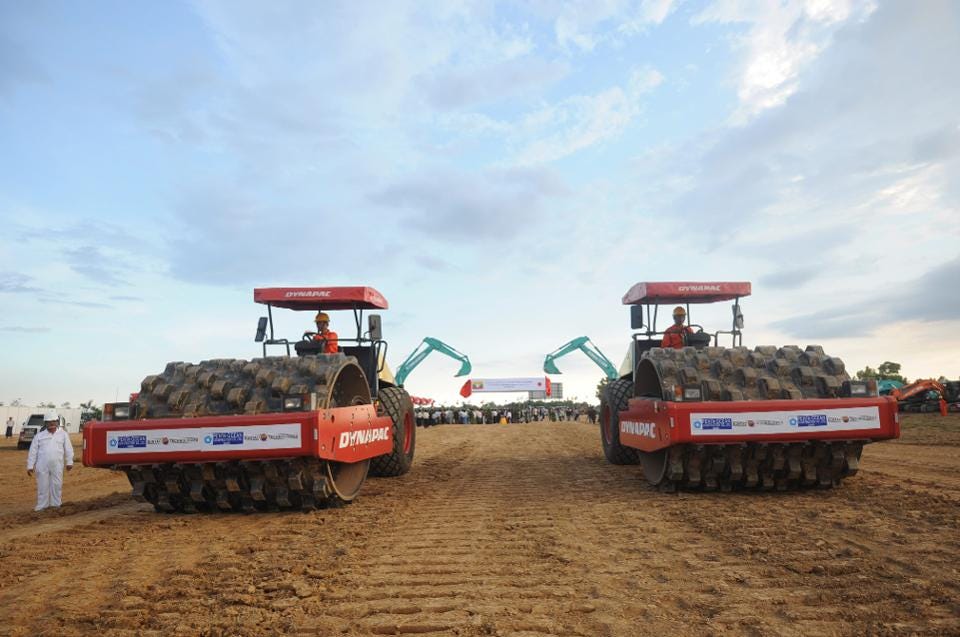 Throughout Asia the frontiers of investment are being pushed ever onward, gobbling up former backwaters in the hunt for cheap labor, natural resources, infrastructure deals, and the massive profits that can be made in the margins of a country transitioning from "emerging market" to "plain old market." As the developed, investor countries of the world march through the Globalization 2.0 era, they continue leaving new roads, rail lines, bridges, power plants, airports, industrial zones, and completely transformed societies in their wake.
As China and Japan continue their race to match each other on securing infrastructure projects and other investment opportunities abroad, Myanmar has become another staging ground for their "new great game," where position is gained via development deals rather than with armies on battlefields.
Myanmar opening up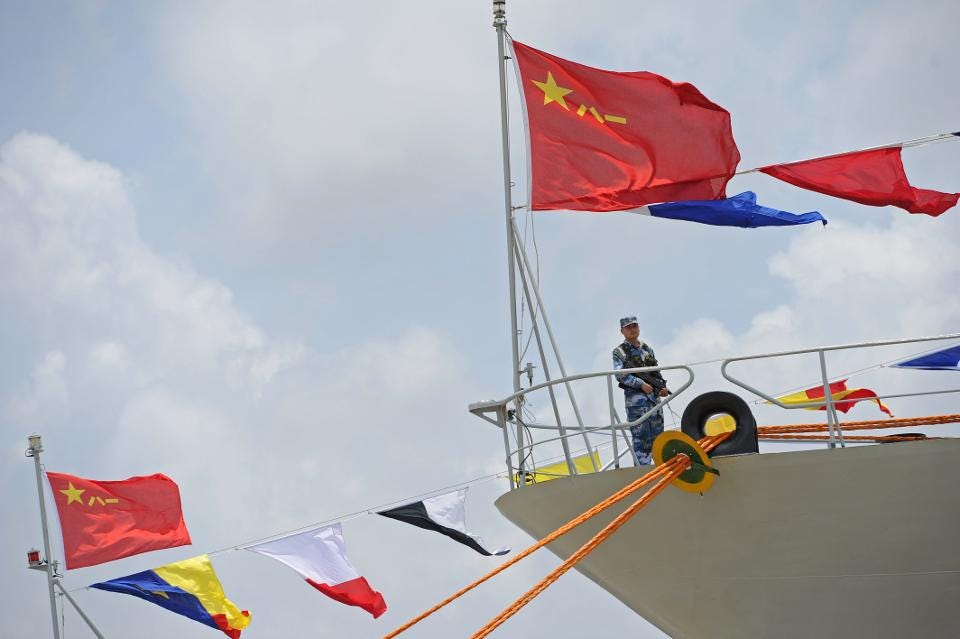 (Soe Than WIN/AFP/Getty Images)
After being a sanctioned, no-go zone for Western-affiliated investors for over two decades, Myanmar began opening up after a civilian government came to power in 2011. This transition instantly made the country the next frontier for countries and companies looking to capitalize on infrastructure, energy, transportation, telecommunications, and industrial development, and torrents of foreign investments and loans flowed into the country like a dam that had burst.
"Walking down the street in Yangon, the feeling of change is palpable. New buildings are being constructed and you cannot help but notice the influx of foreign tourists visiting the local sites. There is a lot to like about the opening of one of the world's last frontiers, especially given its size, geography and vast raw materials," Peter Birgbauer wrote for The Diplomat in 2013.
Myanmar offered foreign investors relatively cheap labor, abundant agricultural resources, ideal locations for new ports, and a strategic position right at the meeting point of Southeast and South Asia, while foreign investors could provide Myanmar with much needed infrastructure -- like roads, rail lines, bridges, ports -- and, especially, electricity, which the country still has a severe deficit of.
While FDI in Myanmar has been on a decline over the past year due to the refugee crisis and the signing of a key foreign investment law has been delayed, China and Japan are still very actively moving in, matching each other's infrastructure projects blow for blow.
China in Myanmar
Under the auspices of its Belt and Road Initiative (BRI) — which promises trillions of dollars for foreign infrastructure development and energy projects — China has been an extremely active player in Myanmar, becoming the country's biggest trading partner and source of foreign direct investment. Since 1988, China has dumped $14 billion of FDI into Myanmar, one-third of the country's total, and over the first eight months of the current fiscal year, trade between China and Myanmar has risen to more than $7.42 billion, on track to at least match last year's total of $10.8 billion.
That said, China has been scoring major infrastructure projects all over Myanmar. Last year, a Chinese consortium led by China's CITIC Group and featuring China Harbor Engineering Company and China Merchants Holdings scored two contracts to build a deep sea port and a corresponding special economic zone in Myanmar. While the Sino-Myanmar pipeline — which stretches from the $10 billion Chinese-invested Kyauk Pyu Port and special economic zone on the bay of Bengal all the way to Kunming in China's Yunnan province went into operation. This pipeline strategically bypassing Singapore and the Strait of Malacca and is one of a growing network of such pipelines which allow China to diversify its supply chains for incoming Middle Eastern energy resources — one of the core drivers of the Belt and Road.
Japan in Myanmar
Under the slogan "Partnership for Quality Infrastructure" — perhaps a direct jab at the type of infrastructure that China is building abroad — Japan has impressively been countering China's Belt and Road Initiative throughout Asia. While Xi Jinping's BRI gets more attention from the international community, [tweet_quote display="Japan as been at the international infrastructure building game for decades, and views Southeast Asia as its backyard."]Japan as been at the international infrastructure building game for decades, and views Southeast Asia as its backyard.[/tweet_quote] Via financing engines such as the Asian Development Bank (ADB), the Japan International Cooperation Agency (JICA), and the Japan Infrastructure Initiative, Abe and company have recently upped their game in the Asian investment sphere, promising an additional $200 billion for foreign infrastructure development. Some of Abe's big deals have been a $8.76 billion natural gas purification plant and a $4.38 billion chemical plant in Turkmenistan, a big fertilizer plant in Uzbekistan, a deal with India to help build the Delhi-Mumbai Industrial Corridor, a large diesel plant on South Andaman Island, a high-speed rail line between Mumbai and Ahmedabad, along with two more metro systems in India.
In Myanmar, Japan has been a long-term player — even maintaining some degree of relations throughout the era of the junta — and when the country again opened up to outside investment they were all set and ready to jump in, instantly waving nearly $3 billion of debt and providing backing for a host of new development projects to rebuild the country's ailing rail network, health facilities, and energy capacity.
Since 2012, Japan has directly invested over $717 billion in Myanmar ($220 million of which coming in fiscal year 2015-16), with some of the most notable going to the Thilawa Special Economic Zone, a 2,342 hectare industrial area just outside of Yangon that is 49% owed by the Japan International Cooperation Agency and a trio of Japanese banks. This is the first-ever Japan-Myanmar public-private initiative and upward of 21 Japanese companies are reportedly standing in the wings ready to make big investments.
Japan is also very active in Myanmar's energy sector, and the Japan International Cooperation Agency was right at the doorstep with an offer to help solve the country's energy crisis with ... coal. Or, more precisely, coal that is prefixed with the justifying adjective "clean." Japan's Industrial Decisions firm joined forces with Singapore and Myanmar companies to develop the $1.7 billion Paluzawa coal mine and a corresponding power plant, while Marubeni is a partner in the proposed $3.5 billion Myeik coal-fired power plant.
"Coal power is the preferred choice for the [Myanmar] administration," Amara Thiha wrote on The Diplomat in August, "as it is economically feasible to provide for the country's urgent need of electricity. Foreign investment, development assistance, low interest loans, and most importantly a commitment to [keep] the lights on in the short term with flexible project locations makes so called "clean coal" power plants a favorable choice for the government."
Outside of the big investments going into the Thilawa SEZ and for coal plants, many other Japanese companies — including JFE Steel Corporation and Hanwa — are engaging in other development projects throughout Myanmar. Mitsubishi and Jalux renovated and now operate Mandalay's airport, Daiwa Securities and the Japan Exchange Group are investors in the new Yangon Stock Exchange, Mitsubishi is a part of a multinational team to develop the $350 million The Landmark Development mixed-use project in Yangon, and Japan's three largest banks each invested $75 million to become "official" foreign investors in Myanmar.
In addition to FDI, Japan has been instrumental in providing Myanmar with loans, with $1 billion being deployed in 2015, announcement of a $7.7 billion aid and loan plan in 2016, and $824 million in 2017. The new Yangon International Airport is also to be 49% financed by Japan — which includes a loan in the ballpark of $750 million.
The new Great Game
"For Japan, geostrategic competition with China and support for ASEAN, combined with its own economic interests, are the primary factors motivating engagement with Myanmar. Underpinning all this is the widely held perception that Japan has invested heavily in Myanmar since its independence and now it's time to reap the benefits," wrote Patrick Strefford in East Asia Forum.
China and Japan seem to be currently engaged in a diplomatic and economic competition that spans across Asia. Right after Xi Jinping's Belt and Road Forum in May, Japan and India unveiled a counter-vision called the Asia-Africa Growth Corridor. Following on the coattails of China's COSCO and Lianyungang Port announcement that they were taking a 49% cut of Kazakhstan's Khorgos Gateway dry port, Japan's Nippon Express moved in and signed an MoU with Kazakh Railways to bolster the overland flow of container traffic from Japan and South Korea through Kazakhstan. While in Indonesia, Japan's plan to construct a high-speed rail line from Jakarta to Bandung was swiped by China; in Bangladesh, Japan was given a contract to build a deep sea port at the expense of a similar Chinese proposal; and in Sri Lanka, Japan and India are considering building a port and industrial zone at Trincomalee to compete with China's recent takeover of the Hambantota deep sea port and corresponding economic zone.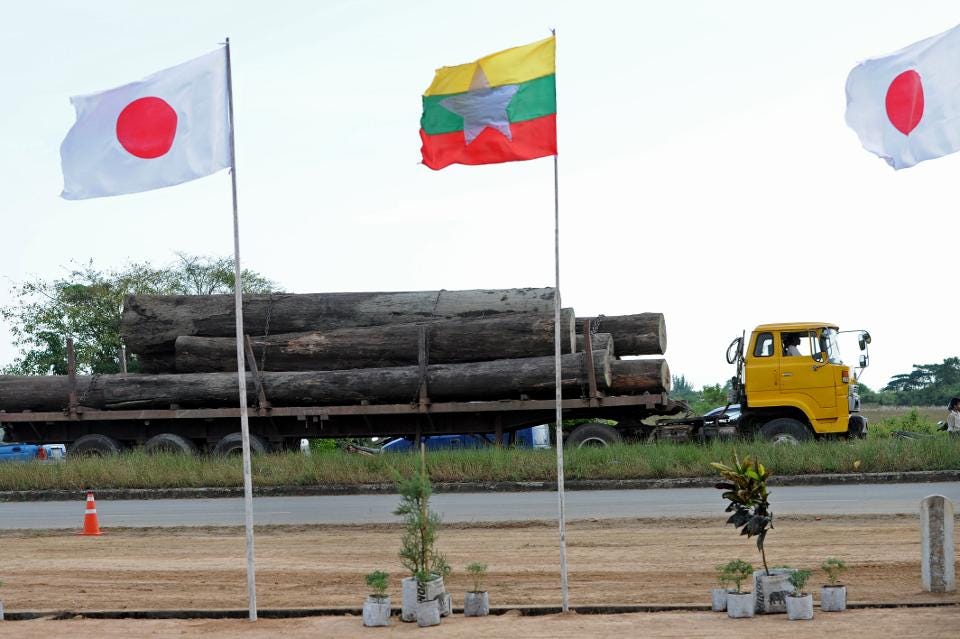 The same project?
While on the surface China and Japan appear to be competitors, battling it out in the emerging markets of Asia, in reality their respective projects join together and complement each other smoothly. Roads, rail lines, ports, and power plants generally don't discriminate as to who uses them on the basis of national affiliation. When adjusted for climate change and adaption costs, the ADB estimates that the Asia-Pacific region will need $1.7 trillion per year of infrastructure investment — or $26 trillion by 2030. In point, the Asian infrastructure investment game has only just begun.