Discover more from On The New Silk Road
Journeying Through China's Artery Of Power
China's 'New Silk Road' Is Derailed In Sri Lanka By Political Chaos And Violent Protests
The locals are saying no to China's Silk Road dreams.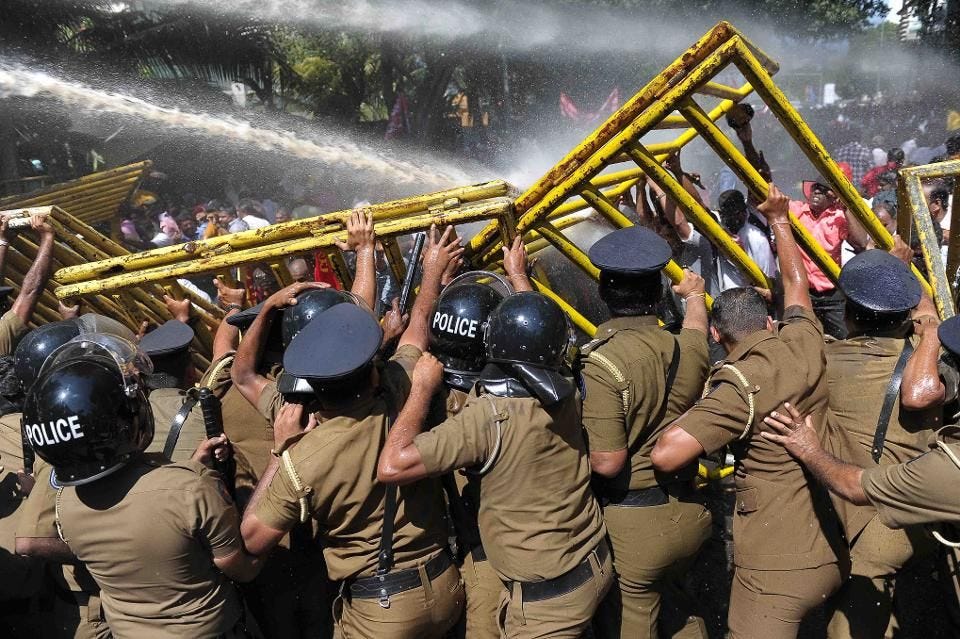 It was supposed to be a great new catalyst of transportation, manufacturing, and trade that would be used to stimulate growth in Sri Lanka's remote Hambantota district. The dream was for Sri Lanka, China, and other nations to join together in the building of a new international city that would rise up from the southern jungles that could complement booming Colombo, a 250 kilometer driver to the northwest. Instead, Sri Lanka found itself with an array of cash-hemorrhaging, half-developed infrastructure projects that are on the verge of becoming white elephants, large amounts of international debt, and a highly unstable political and social social situation.
It is now looking as if Sri Lanka's biggest partner in the Hambantota endeavor, China, is pulling back from what seems to have become an all out fiasco. While a deal was supposed to be formally signed on January 7th that would have seen China take over an 80% share of the struggling Hambantota port for 99 years in exchange for $1.1 billion of much needed debt relief, this agreement has now been put on indefinite hold due to internal political strife and violent public demonstrations.
Sri Lanka began building this strategically-located deep sea port in 2008 with over $300 million in Chinese loans, which the country has subsequently struggled to repay. This was partly due to the poor economic performance of the port itself, which was originally intended to be run in tandem with a nearby industrial zone. However, this part of the project was never built.
Prevailing logic states that a bulk cargo port without a corresponding industrial zone is like a bicycle with one wheel — it just doesn't go. So regardless of how much development occurred on the port itself, the bulk of maritime traffic would continue passing it by for lack of a reason to go there — i.e. a manufacturing area where they could drop off and pick up raw materials and other cargo.
The Chinese takeover of the Hambantota port and 15,000 acres of land for the accompanying industrial zone was meant to be a way for the project to be taken to fruition amid Sri Lanka's dire financial situation. Instead, the country erupted in protest and political controversy.
In January, as news of the impending transfer of 80% of the Hambantota port to the China Merchants shipping company became known locally and speculation that villages and farms would be requisitioned to build the industrial zone became rife, violent protests broke out in the region. The melee brought the issue to the national forefront, and trade unions and some opposition politicians led by Mahinda Rajapaksa — Sri Lanka's former president who originally began the Hambantota development — began making things very difficult for these deals to actually happen. Eventually, a lawsuit intending to stop the impending debt-for-equity transfer was filed by a Sri Lankan legislator against the current government.
Sri Lanka responded to the heat by delaying the signing of the port and industrial zone deals, much to the chagrin of China, who had previously promised to invest $5 billion in the Hambantota area within the next five years.
China's Ambassador to Sri Lanka, Yi Xianliang, claims that while President Xi Jinping and himself are prepared to exercise patience with Sri Lanka, investors may not be so accommodating. According to the ambassador, he had already rounded up over ten big Chinese companies who would be willing to invest $3-5 billion in Hambantota over the next two or three years, if it wasn't for the political strife on the ground.

"We either go ahead or we stop here," the ambassador summed up succinctly.
These events are all happening as Sri Lanka is in a dire debt situation. As of the end of last year, Sri Lanka's debt was pegged at $65 billion — $8 billion of which was owed to China. This was good for a debt-to-GDP ratio of around 75%, and 95.4% of all government revenue was reportedly going towards debt repayment. After taking out a loan of $1.5 billion from the IMF to stay afloat in 2016, the international lending institution has been putting a large amount of pressure on Sri Lanka to right its economic trajectory by cutting deficits, bolstering its foreign exchange reserves, and acquiring more tax revenue. The $1.1 billion from China for Hambantota port was intended to go towards partially remedying this financial situation.
But this financial relief is not coming anytime soon. Beijing is delaying the debt-for-equity transfer and investment in the industrial zone until Sri Lanka can sort out its mess.
Ultimately, this comes as a major blow to China's Maritime Silk Road -- an initiative which seeks to increase Chinese maritime connectivity from East Asia to Europe -- and demonstrates the difficulties that the country often has trying to develop long-term and costly infrastructure projects in vacillating democracies like Sri Lanka. All in all, the Hambantota fiasco is sending a clear message to Beijing: showing up with bags of money alone is not enough to win a new "Silk Road."