Discover more from On The New Silk Road
Journeying Through China's Artery Of Power
How China's Belt And Road Just Got A Big Boost From Europe's TIR Convention
The hallmark of China's Belt and Road Initiative is in tying together and utilizing existing international political and economic organizations and agreements. By signing onto the EU's TIR Convention,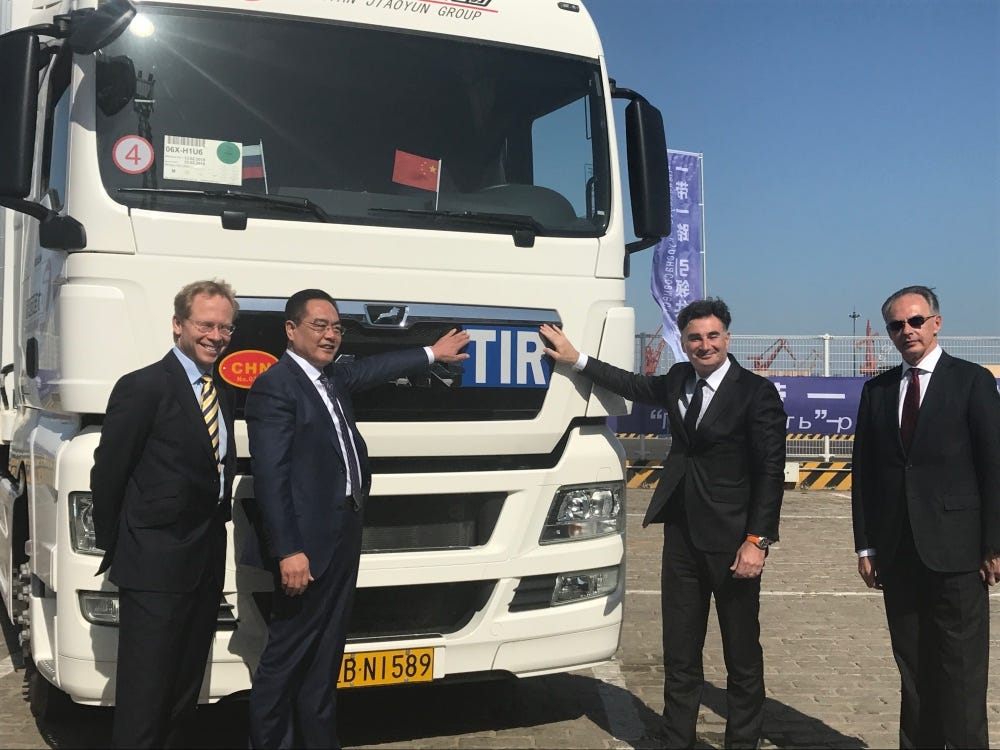 In 2016, China became a member of the UN's TIR Convention, which enables transporters to ship goods through 73 partner countries by truck with just a single customs inspection, but it wasn't until this month that their participation officially went into effect.
On May 18th, a caravan of trucks with large blue and white TIR plates departed in a ceremonial launch from Dalian in the northeast of China bound for Novosibirsk in Russia, 5,600 kilometers away. Having already undergone a customs inspection in the Dalian-bonded zone, these vehicles will not need to go through another for the duration of the journey, speeding up their transit time considerably. Why does this matter so much to China and its future economic prospects?
What is the TIR Convention?
Founded in Geneva in 1975, the Transports Internationaux Routiers (TIR) or International Road Transports convention is a multilateral treaty facilitated by the United Nations Economic Commission for Europe (UNECE) to improve road transportation throughout the continent by removing en route customs inspections and on-site duty payments for approved carriers departing from select locations. This essentially allowed trucks to traverse dozens of European countries without needing to be checked at each border, which greatly improved the speed and efficiency of trade, decreasing the lead time of a journey by up to 80%.
With the creation of the European Single Market in 1993, TIR was rendered moot for intra-European transit. However, as globalization kicked into high gear throughout the 1990s and 2000s, the TIR was expanded to include countries outside of the EU, eventually attracting 73 member states across Europe, Central Asia, the Middle East, North Africa, and East Asia, making it the go-to customs arrangement for international ground transport which is currently speeding up 1.5 million border crossings per year.
The TIR has also been adapted from its original vision of being solely for road transport and has become truly multimodal, allowing for rail, river and sea legs to be included if at least one part of a journey is done by truck.
Now that China is part of the TIR picture, goods can be shipped from some of the biggest manufacturing centers in the world more rapidly and cheaper. Going the other way, the TIR allows manufacturers from other member states to get their products to China's booming middle-class market by land more efficiently than they ever could before--in theory, anyway.
"As well as opening up new, more efficient and cost-effective trading routes for China's manufacturers to the rest of the world, the TIR Convention will open up reciprocal trading routes for external manufacturers into the country," said Umberto de Pretto, the Secretary General of the IRU, a major international road transport organization with over 100 member countries.
Why this matters
Hard infrastructure—roads and rail lines and airports—mean little without the soft infrastructure which makes them viable. Countries don't only need to "build it" but they need to come up with policies and agreements with other countries to maximize the potential of these new infrastructural offerings. Some of these agreements come in the form of trade organizations, customs zones and multinational economic areas, while others are along the lines of initiatives like China's Belt and Road Initiative (BRI) or conventions like the TIR. As we previously covered on Forbes:
The first stage of China's Belt and Road initiative, which aims to create a network of interconnected trade stations across Eurasia, is customs. Getting rid of the red tape to allow goods to traverse this massive land mass as efficiently as possible is key to making these routes sensible and profitable. The aim is to make land borders nearly as easy for goods to flow across as the open ocean, and this is being done step-by-step.
Later this month, the Shanghai Cooperation Organization (SCO) is going to have its summit in Qingdao, and it should not go without notice that every member of the group has already ratified TIR.
How the TIR Convention helps China's Belt and Road
[caption id="attachment_3468" align="alignnone" width="1000"]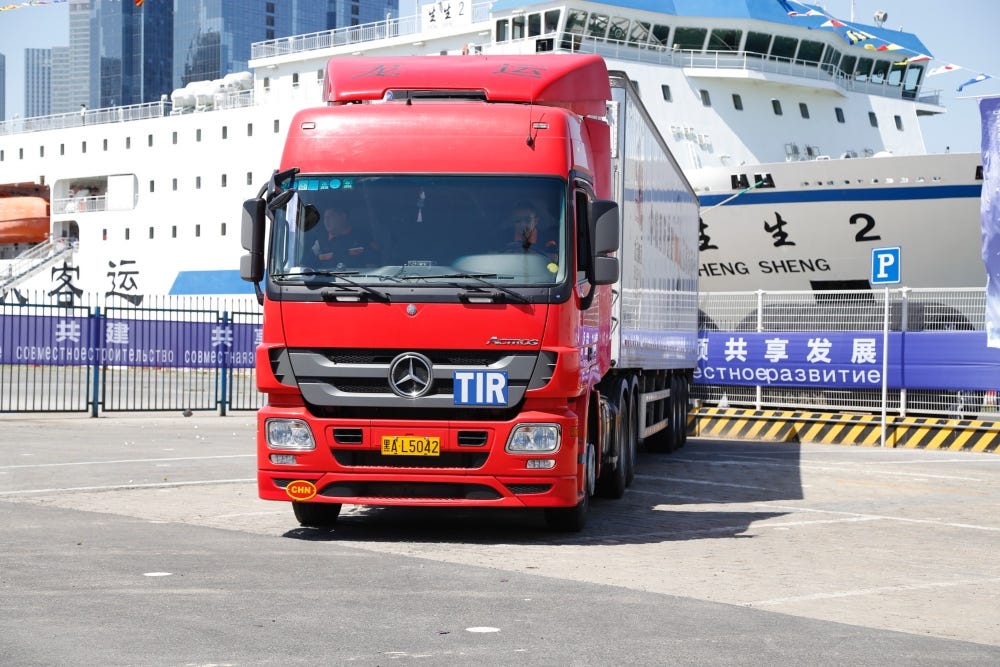 Truck with TIR plates departing from Dalian.[/caption]
China's Belt and Road Initiative (BRI) is a large-scale endeavor to create and enhance economic and political corridors across Eurasia and Africa, and programs such as the TIR Convention ultimately provide a major boost towards these ends. According to the IRU, [tweet_quote display="The TIR could increase the volume of total trade between China and Belt and Road countries by $13.6 billion."]the TIR convention has the potential to increase the volume of total trade between China and the other countries of the Belt and Road by $13.6 billion.[/tweet_quote]
It currently takes between 8-12 days to transport products door-to-door by truck between an inland city in China and Europe. This is roughly four times faster than shipping by sea and around 50% faster than rail. Now with China being a full-fledged member of the TIR, shipping overland between China and Europe becomes an increasingly attractive option for manufacturers looking to get their products to the other side of Eurasia.
Production moving deeper inland
The impact of the TIR convention and China's participation in it is magnified many-fold by the geographic redistribution of manufacturing to inland areas throughout Eurasia.
Beginning in the early 2000s, China's "Go West" policy saw the all-out rebuilding of the country's transportation infrastructure and the large-scale migration of companies inland from the prosperous cities of the east coast to then-backwaters like Chongqing, Chengdu, Zhengzhou, Wuhan and Xi'an.
[caption id="attachment_625196700" align="alignnone" width="960"]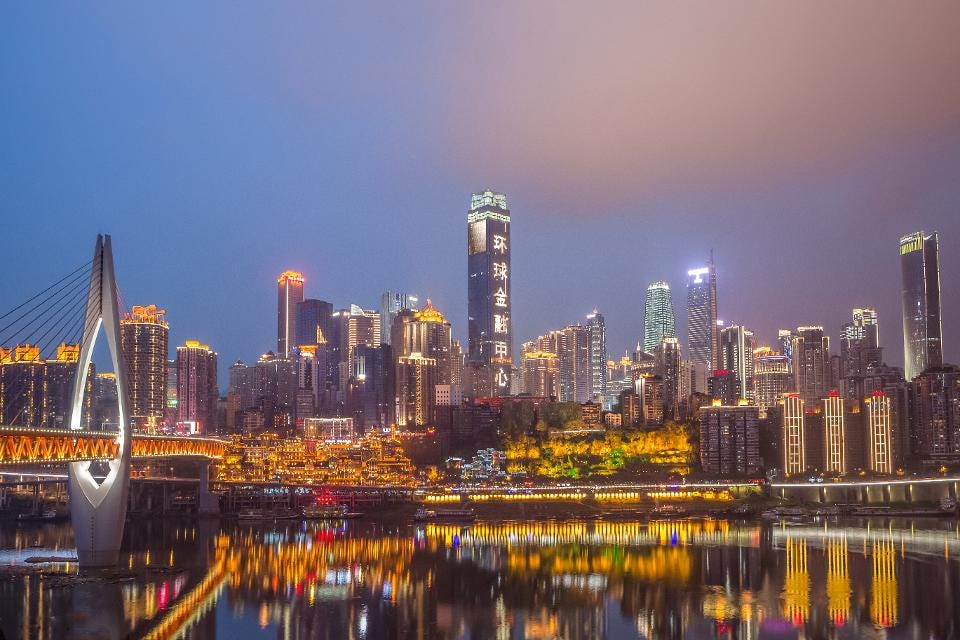 Chongqing City, China. (Photo by: Prisma Bildagentur/UIG via Getty Images)[/caption]
This movement has gained momentum in recent years with the Belt and Road Initiative, and even cities in China's far west, such as Horgos and Kashgar, have been primed to become major manufacturing centers.
These development gave new relevance to overland trans-Eurasian transport, as the places where goods were being manufactured in China were suddenly very far from any seaport and significantly closer to their target markets in Europe, so it no longer made any logistical sense to truck products thousands of kilometers east in order to ship them back west again.
It is no coincidence that most of the TIR gateways in China are emerging BRI transport hubs:
Dalian: a major multimodal transport hub on the Pacific.
Erenhot: a new city and trade station on the border of China and Mongolia that sits at the heart of the China-Mongolia-Russia Economic Corridor.
Horgos: a massive conurbation of development that extends across the China/Kazakhstan border.
Manzhouli: a major BRI hub on the China/Russia border.
Suifenhe Port: another China/Russia trade hub.
When you add to this picture the emerging special economic zones in other parts of Eurasia--such as those on the Kazakhstan side of Khorgos, Alyat in Azerbaijan, Malaszewicze in Poland, and dozens of others--along with mega-transportation projects like the Western Europe-Western China Expressway, which runs from the east coast of China all the way to the Baltic Sea at St. Petersbur--it is looking as if the the geospatial distribution of manufacturing and the way goods are moved across Eurasia could have the potential to be significantly altered in the near future.