Discover more from On The New Silk Road
Journeying Through China's Artery Of Power
How The New Silk Road Made Freight Trains 'Sexy' Again
An old-world form of transport making a comeback in the 21st century.
"Rail was perceived as something for old, fat people, and with the Silk Road it's becoming sexy and trendy again," Karl Gheysen succinctly summed up the revolution that the rail freight transport industry is currently going through in Europe and Asia.
Eurasia, as in the contiguous landmass that includes both Europe and Asia, is rapidly being interconnected into a massive market covering 70% of the population, 75% of energy resources, and 70% of GDP in the world, and enhanced rail transport corridors are the strings that are drawing it all together.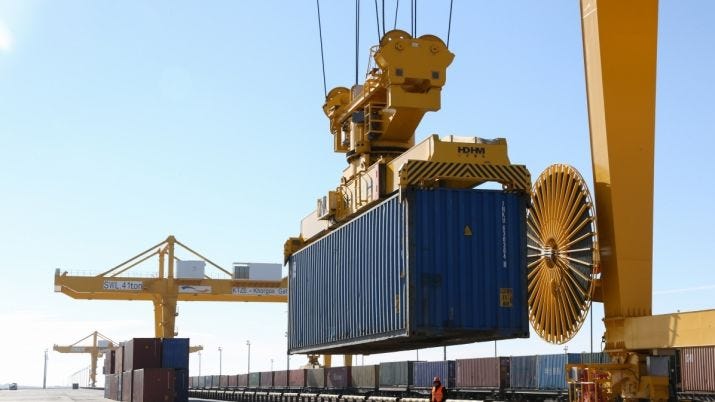 Containers being handled at the Khorgos Gateway dry port on the border of Kazakhstan and China. Image: Khorgos Gateway.
The trajectory of Karl Gheysen is the embodiment of this revolution. A career logistics guy who ran seaports and dry ports around the world took on a bold new project in 2014: to build a new port in a place that literally couldn't be farther from an ocean. Located in proximity to the Eurasian Pole of Inaccessibility on the Kazakhstan/China border, Khorgos Gateway was constructed from scratch to become a massive port for trains rather than ships at the nascent crossroads of Eurasia.
With DP World contracted by the Kazakh government to hold the reigns, everything about the Khorgos dry port was run according to the standards of the global shipping industry, rather than that of rail.
"So we come with our procedures from DP World. We do copy paste. For us, this is like a sea terminal," Gheysen said. "The software that I use is the same as in a seaport, the procedure is the same as in a seaport. People over here in the CIS countries are going, 'Wow, a train in 47 minutes in and out, that's fast.'"
This break in convention was necessary for such an international logistics hub which aims to help deliver an overland transport product unlike anything previously available. The culture of the rail industry was rooted in the comfortable old world of impermeable borders and national companies holed up in noncompetitive monopolies.
"Rail people traditionally all over the world are used to working in a monopoly," Gheysen explained. "You are Kazakhstan, you have Kazakh rail, that belongs to you. Everybody who wants to come on the rail has to beg you, 'Please can I come on your rail?' So in every country — in Europe, in America — rail is used to being a monopoly. That is changing. We come from the shipping world, from DP World. There is competition, competition is big, so we have to go fast. So it is a change of culture in the rail environment."
This new approach to rail freight transport was sparked by the emergence of China-Europe, trans-Eurasian direct trains that had speed and efficiency at the core of their business models.
With the rise of high-tech manufacturing in China came a need to ship high-value cargo back and forth to Europe at a faster speed than sea freight but at a cheaper price than air. Throughout the 2000s various different China-Europe rail routings were tested, but it wasn't until 2012 that Ronald Kleijwegt at HP worked out the bottlenecks and began a regular weekly rail service that could cross the 9,000+ kilometer expanse between Chongqing and Duisburg (Germany) in around two weeks.
While Kleijwegt and the HP logistics crew conducted a good deal of hand-holding in the early days to teach customs officials throughout the route how to handle these new express trains, the first big breakthrough which made these rail lines truly feasible was the creation of the Eurasian Customs Union in July 2011. This new customs pact saw Russia, Kazakhstan and Belarus dropping their shared borders for the transport of goods, and suddenly HP found themselves with a virtually non-stop train between their factories in China and their destination markets in Europe.
Two years later in 2013, China would provide another breakthrough for trans-Eurasian rail with the announcement of the Belt and Road initiative, which laid out a framework for China to increase its participation in the broader movement towards pan-Eurasian logistical, economic, and political cooperation — what has been dubbed the "New Silk Road." This was a large-scale, multi-national vision that would see new transportation infrastructure, dry and sea ports, special economic zones, and even entirely new cities being built up from scratch across Eurasia.
This new initiative put forth trans-continental rail transport as its vanguard, and before long cities all over China and Europe were linking together via direct cargo trains. But before this could happen a monumental inter-linking of rail systems needed to occur.
"Each of the railways were very local, very national," said Nicolai Noeckler from Trans-Eurasia Logistics, a joint venture between German and Russian rail companies Deutsche Bahn and RZhD. "So we are the medium through which all of the different information for each railway is going through. So the Chinese railways is communicating with us, the Russian railways, the Kazakhstan railways, and also DB. That was one of the biggest challenges to combine those three railways to do one service with them."
What was just two regular routes connecting Chongqing to Duisburg and Chengdu to Lodz (Poland) in 2012 grew into a 39 route full-fledged network by 2016. Over 2,000 direct trains have now crossed the continental expanse between China and Europe in as little as 10.5 days. The epic dry port Khorgos Gateway handled 73,000 containers in its first year of operation, and aims to up this to 500,000 by 2020, as more cities and markets link into the trans-Eurasian rail system.
Now acting in a very competitive environment where speed, reliability, price, and security are key selling points, rail companies and logistics firms offering international rail products had to up their games in terms of service. As Gheysen pointed out, the business structure and competitive ethics of ocean shipping were applied to rail freight, which was a major part of the latter's renewed rise to relevance.
"What's extremely important for us is to eliminate railway language," Noeckler said. "Because railway language and railway terms no customer understands. So we fixed all the terms and conditions we had — like what our rate sheets looked like — to shipping standards, because every customer knows what that looks like. To get a rate today it's extremely easy, as easy as booking a flight with United."
"I think that rail transport has been becoming more attractive because of the shuttle trains, the block trains from A to B," Kees Kuijken from New Silk Way Logistics said. "In the past, where train cargo was being transported on the old wagons, quite a few things happened that were not controllable or traceable. On the block trains from A to B you know the exact departure time and you also know the exact arrival time. This allows us to include this in the supply chains of our clients because you can plan on it."
While it is easy to think of rail transport as being old-fashioned and ill-equipped for the modern era, the technology that some of the trans-Eurasian lines now have available is truly state of the art. Many of the containers are GPS enabled and can be tracked and traced along every leg of the journey. Additional security features like light-triggered alarms which go off if the container is opened are also available. Some containers, like those offered by a company called Unit 45, are climate controlled and their interior temperatures can either be set in advance or controlled remotely en-route. This has resulted in theft and damage rates that are way lower than ocean shipping — containers often don't even touch the tarmac at terminals all the way until their destination on the other side of Eurasia.
Currently, most direct rail routes emanating from China are government subsidized, which keeps the costs for customers low. In 2012 and 2013, when these direct China-Europe rail lines first began offering regular service, it cost over $5,000 to ship a single container. This price has now dropped to around $4,000 to ship from China to Europe (and is significantly less going back the other way, where most containers will otherwise go back empty) and it is thought by some in the logistics industry that this price should drop even further to $3,000 in 2017 and perhaps even to $2,000 the year after. For scale, before the recent crash in ocean shipping rates the standard price to ship a container from China to Europe was in the $1,000 to $2,000 range.
"If the customer knows there's an easy pricing system, it's reliable, there's a schedule with departure date and departure times, there is nothing unclear, and to combine everything on only three pages [where] the customer can easily catch all the important information for himself [then he can] have trust in the rail product," Noeckler summed up how the New Silk Road made rail sexy again.