Discover more from On The New Silk Road
Journeying Through China's Artery Of Power
Non-Stop From Baku To Europe - A New Silk Road Corridor Emerges
Istanbul's Marmaray Tunnel opens to cargo transport, creating a new way to get products between Asia and Europe even faster.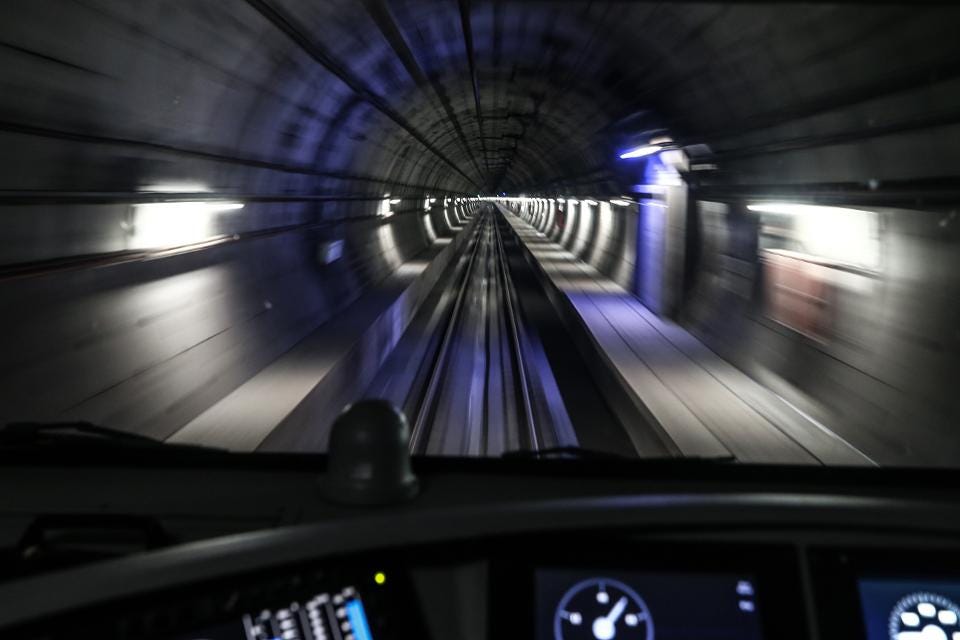 ANADOLU AGENCY VIA GETTY IMAGES
Just ten years ago, a non-stop freight train from fringes of Asia into the core of Europe may have sounded like an odd twist of historical fiction or even a really dumb idea, but in today's context – where a new "Silk Road" is driving the rapidly inter-connectivity of countries across Eurasia – such transport routes are redefining not only how goods are shipped but the broader economic layout of the world.
A block train laden with 42 containers of electronics from the central Chinese city of Xi'an just rumbled across Kazakhstan, over the Caspian Sea, and straight on through the Marmaray Tunnel to Europe before terminating in Prague — traversing ten countries and 11,485 kilometers in just 18 days. While China-Europe rail has become a new normal, the passage though the Marmaray Tunnel was something new, allowing for non-stop transit from the Capsian Sea all the way to Europe and showcasing an overlooked economic corridor that is now gaining traction.
ANADOLU AGENCY VIA GETTY IMAGES
What is the Middle Corridor?
The Middle Corridor of the New Silk Road is a series of three interconnected multimodal transport routes that span the heart Eurasia which are designed to increase the speed of overland shipping between China and Europe while opening up new markets for transshipment, manufacturing, and trade along the way. Previously known as the Trans-Caspian International Transport Route, this corridor was formed in 2014 via a partnership between Kazakhstan, Azerbaijan, and Georgia, but eventually grew to include Ukraine, Romania, Turkey, and Poland.
Each route of the Middle Corridor is multimodal, mixing rail with ferry transfers across the Caspian and Black seas. All three routes go from China to Azerbaijan via Kazakhstan before splintering off and finding their own ways to Europe – one going via Georgia to Romania; another going from Georgia to Ukraine, and a third, which this story focuses on, goes from Baku along the new Baku-Tbilisi-Kars rail line into Europe via Turkey's Marmaray Tunnel. Altogether, the Middle Corridor is expected to carry 60,000 TEU of cargo between China and Europe this year, which isn't exactly a lot but is still a four-fold increase over last year.
While trains have been transiting between China and Europe along the Middle Corridor for a couple of years now, the significance of the recent train from Xi'an is that it is the first freight train to pass through the Marmaray Tunnel, which is a 13.5 kilometer passage beneath the Bosphorus Strait in Istanbul, literally connecting Europe and Asia. The Marmaray Tunnel first opened six years ago but it hasn't been ready for cargo transport until now – a major development for the Middle Corridor, as it cuts out one of the two sea legs, allowing for non-stop service from Baku to Europe, which dramatically reduces lead times.
Subverting Russia
Unlike the two northern routes of the New Silk Road, all of the routes of the Middle Corridor bypass Russia completely, successfully subverting their sanctions on the import and transit of an array of EU goods, such as meat, produce, and cheese — precisely what the booming new Chinese middle class are wanting to buy from Europe.
"The big problem that we face is that there are still sanctions in Russia to move perishables over from Europe to China or Europe to Kazakhstan through Russia. That's the bottleneck at the moment," Jan Koolen, the CEO of Unit 45, a company that manufactures temperature controlled shipping containers, told me for a previous story on Forbes.
Reconnecting Eurasia
This bottleneck was leveraged by the Middle Corridor consortium, and we're now seeing an entire transport-oriented business ecosystem appearing in the Caspian and Black Sea states, with major logistics and manufacturing parks popping up in places like Baku, Batumi, Anaklia, and Kars. As we previously covered:
"The South Caucasus region sits right at center of an array of diverse and vibrant markets which extend out from it in all directions. Central Asia and China are to the east, Turkey and Europe are to the west, Russia is to the north, and Iran and the Middle East are to the south. The BTK rail line physically connects together the central portions of Eurasia, the singular landmass which stretches from the east coast of China to the west coast of Europe, containing 70% of the world's population, 75% of energy resources, and 70% of GDP."
While the marketing material for China's Belt and Road shows a network of nice fluid pathways extending all over Eurasia and Africa, when we peel back the veneer the view on the ground is a little different. If we only look at the Belt and Road, all we have is a scattered array of Chinese-backed projects — they don't connect together until we add in Kazakhstan's Nurly Zhol projects, the EU's logistics ecosystem, Russia's rail empire, and the work of the consortium of countries behind the Middle Corridor, among others.
Like the ancient Silk Road, the New Silk Road is truly international and finds stability in having a variety of different ways to get from point A to point B. When one route goes down due to political, economic, or environmental upheaval, goods are simply transported along another. Today, there are currently five overland corridors between China and Europe that are in operation ... and more are on the way.