Discover more from On The New Silk Road
Journeying Through China's Artery Of Power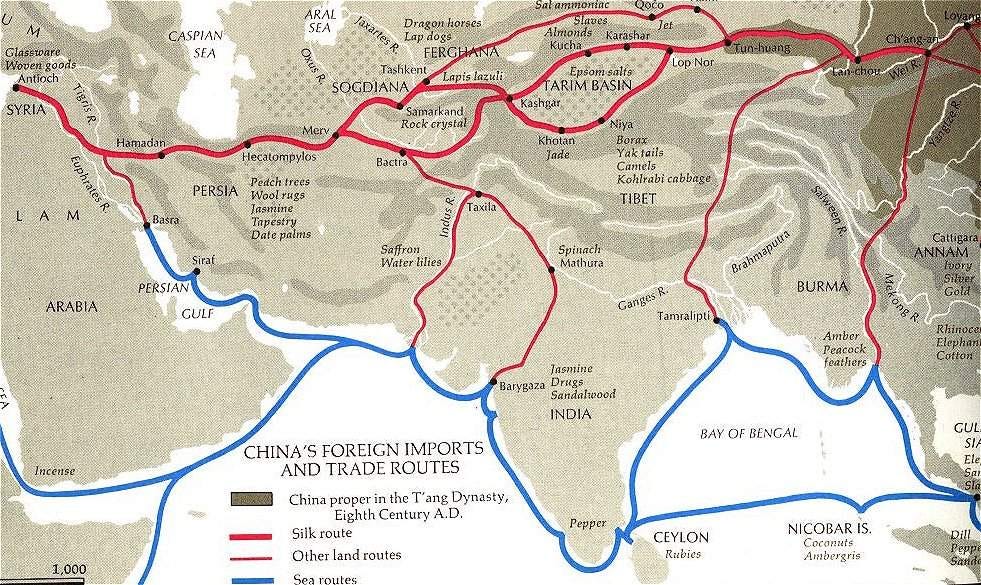 Today concludes our second full week of publishing On the New Silk Road, and it's going pretty well. Both paid and free subscriptions continue coming in at a good clip, and we're taking steps towards our initial goal of 10,000 total subscribers, with 1,000 of them paying $5 a month or $50 a year. As our paid subscriptions continue growing we'll be adding more and more premium content. If you're on a free plan and would like to jump over to the other side, please to do so here:
As far as our week of publishing, we started the week out with a dive into what life is like in a Silk Road work camp in Oman (subscribers only), then moved on with a story which looked at how China's on-going coronavirus response is creating some tense diplomatic situations, a couple of articles which looked into an interesting situation where fake Chinese news caused an international row between China and Kazakhstan, and, of course, our end of the week Q&A open thread. These open threads are getting pretty vibrant, with an array of different experiences and perspectives coming out of various sectors of Silk Road research and travel. If you haven't checked one out yet, I recommend jumping in.
Silk Road news
China domestic 
Kicked out
One of the more interesting stories coming out of China this week was Paul Mozur of the NY Times talking about the climate in China in the lead up to his expulsion date and, especially, an interview that he did with Michael Barbaro:
"Yeah, what the Chinese government wants to tell is a story of triumph. They've emerged from the virus as the rest of the world is under siege and under lockdown. And the story they want to tell is that the reason they were able to beat the virus is the superiority of the Chinese system. This sort of enlightened authoritarianism that is able to technocratically manage every variable and fix everything and make things right. And when they look around the world, they can point and say, look at all of these democracies. They're suffering terribly. More people are dying. More people are sick. They're in crisis and we've gotten through this. We succeeded. That means we are the new superpower. We are the sort of country in ascendancy and everybody must pay their respects now."

"I really do think we've crossed a point in the U.S.-China relationship that will be difficult to come back from. I think both countries have made it clear the way they view the world is at odds."
This story made me feel a little sad and nostalgic. The China that I remember — from when I was a traveler / student there from 2005 to 2007 and a writer from 2012-2015 was open and engaging, friendly and absolutely enthralling. My strategy for collecting content in those days was to show up in a new town, head over the KFC, make a friend, and ask them to show me around and tell me about their city. If I wanted to know about a new city that was under construction, all I had to do was walk in and start asking questions. Throughout my entire Ghost Cities project I would very rarely be shot down. It was almost too easy.
While I was often treated like a curiosity, especially in more remote regions, I can't recall a single instance of hostility. I remember one situation when on a super SUPER crowded train at the height of the Spring Festival travel season when this young Chinese couple stood up and gave my wife, young daughter, and I their seats simply because we were "foreign guests." Meanwhile, they stood in misery, packed in next to the other standing passengers like pickles in a jar, for the entire ride. That's the China that I remember.
I understand that the news that I'm getting now about China is filtered and magnified through the lens of the international media — including the references above from a guy who's probably pretty pissed that he was given the boot — when I call up old friends and expats who are still there what they tell me is largely consistent. Hopefully this will pass soon.
China's faltering pandemic economy
China's economic growth has slowed to its most sluggish annual pace in nearly half a century, according to Reuters.
Growth in the world's second-biggest economy for 2020 was forecast at 2.5%, according to the median of 62 analysts surveyed by Reuters, which would mark the weakest clip since 1976, the final year of the decade-long Cultural Revolution that wrecked the economy.
This is the story of the entire planet right now, so no surprises here. However, the pendulum swing of the pandemic — lower sales as China's export markets go into recession — is going to continue to hit China pretty hard. Also, the impact that the pandemic and its subsequent political fallout will have on international firms shutting down their manufacturing bases in China will also be interesting to watch. This was a movement that was already in full swing pre-coronavirus, pre-trade ward, pre- … it's been going on for quite a while (and it's not just international firms that are leaving).
What's fascinating to me is how quickly China is able to shift focus to keep itself relevant as a global manufacturer. It took mere weeks for factories to transition into making masks, ventilators, and other medical supplies. I'm fascinated, but not surprised. Modern China has always been able to cut on a dime.
China international
China's domestic affairs going global
China doesn't exist in a bubble, and while the country maintains non-interference in domestic affairs as one of the hallmarks of its foreign policy, China's domestic affairs have a major impact outside of its borders.
There was, as we previously mentioned, the fake news affair:
On December 9, 2019, an article appeared on the Chinese news site Sohu.com entitled Why Is Kazakhstan Eager To Get Back to China? that argued that Kazakhstan is a historic part of China and that the county wants to the motherland. Eventually, word of the story was spread around in Kazakhstan, stirring up an already simmering pot of anti-China sentiment, which resulted in the Chinese ambassador being summoned to Kazakhstan's Foreign Ministry.
There was also the issue with African's being unjustly profiled and outcast in Guangzhou due to xenophobic coronavirus fears:
The widespread evictions and mistreatment of African migrants in the southern Chinese city of Guangzhou has caused a serious rupture in China-Africa relations. Chinese ambassadors across Africa have been called into various foreign ministries to explain why so many of their nationals in Guangzhou have been visibly mistreated by authorities and rendered homeless by the evictions from their homes and hotels.
As we covered:
A wave of anti-foreign sentiment then swept over the country that was particularly directed at those from Africa or who were of African descent, which was partially due to a handful of Africans in Guangzhou testing positive for Covid-19:

According to the data provided by the city's health commission, Guangzhou had reported a total of 119 imported COVID-19 cases by Sunday. Among them, 25 were foreigners and 94 were Chinese. Of the 25 foreign patients, 19 were from Africa.

Twitter soon became full of photos of "No blacks allowed" messages being handed out to Africans attempting to enter restaurants — including McDonald's — in China, as well as videos of Africans effectively rendered homeless after being evicted from their apartments or denied admittance to hotels. Then there was a rather disturbing video of Africans being marched through the streets by the police and a video of an African guy and his baby who were locked inside their apartment by the authorities.
Meanwhile in Thailand, a social media battle ensued between young Thais and Chinese nationalists among the fallout from Vachirawit Chivaaree, a Thai-American celebrity, retweeting a photo of Hong Kong in which it was referred to as a "country." He quickly apologized, as a large portion of his fan base is located in China. But hsi girlfriend took up the struggle and retweeted the COVID-19 conspiracy theory that China invented the virus in a lab in Wuhan, which stirred up a shitstorm of controversy. From SupChina:
An army of Chinese nationalists also made their way to Twitter, which is blocked in China, to demand a public apology from New. Using the hashtag #nnevvy, which was New's Twitter handle, legions of Chinese trolls flooded the platform with abusive and vicious comments about her. In addition to personal attacks, some also leveraged the controversy to spew out vitriolic, violent, and flat-out racist comments about Thai people and their government.

When it comes to international social networks, bullying their opponents into submission and silencing criticism has been a common and mostly effective tactic employed by Chinese nationalist trolls. But this strategy didn't translate well to the #nnevvy saga, where Thais who came to New's defense masterfully handled the trolls with a meme-fueled online campaign targeting aggressive Chinese nationalists.
The reason why I'm sharing this is that it's become a bit of an international issue — at least to the level that the Chinese embassy in Thailand released a statement about it — and for the simple fact that I found some of the #nnevvy memes funny.
To dive a little deeper, there is a growing trend of shows of unity between the youth of Taiwan and Hong Kong with other Asian countries. As Fanny Potkin covers for Reuters:
The quarrel, which has seen Southeast Asian internet users join forces with those in Taiwan and Hong Kong, has highlighted old tensions between China and its smaller neighbours fanned by the emergence of the new coronavirus.

"This is the first transnational geopolitical Twitter war Thais have engaged in," said Prajak Kongkirati of Bangkok's Thammasat University.

"We see people questioning China's actions and influence ... The celebrity issue is the tip of the iceberg."
China's global model
This isn't from this week, but I found it a good read. From Jonathan Hillman at the CSIS:
As I'll explain, China's efforts to establish new institutions require further monitoring, but it would be a mistake to exaggerate their current scale and effectiveness. Beijing's willingness to start new institutions underscores its global ambitions and adds weight to its rhetoric about creating an alternative order. But the challenges these efforts face are just as revealing. China's highest-profile initiatives have not delivered on their promises. Many operational and political barriers stand in the way. Most fundamentally, the world is not clamoring for Chinese leadership.
China and Australia face off in the Pacific
As "mask diplomacy" continues, China and Australia are currently competing for influence among the islands of the Pacific. Via Tycho de Feijter on behalf of the Clingendael Institute's BRI newsletter:
So why is China so eager for Tonga in these viral times? Because some countries, most notably Australia and New Zealand, see the pandemic as an opportunity to win back influence in the Pacific, influence that was lost to China. The tiny islands nations are scared to their corals of the virus and many have closed their gates to all and everything from afar, while simultaneously dealing with a destructive storm. Australia and China are having a feisty aid-competition in the area, with each country shipping masks and other supplies to any island king that wants them.

But not all is well. Even before COVID-19 many Tongans started to worry about the country's debt to China. Tonga owes China's Exim Bank about $158 million, or two-thirds of the country's total external debt. Furthermore, shop owners are openly angry about Chinese taking over their business and last year local landowners refused a proposal by BRI-favorite China Civil Engineering Construction Corporation (CCECC) to build a five-star hotel on Tanna Island.

The virus has made things worse. In a worrying development for China, Tonga refused an aircraft carrying medical supplies after citizens expressed fears it might bring the virus straight into the country. In an effort to appease the Tongan government, the Chinese embassy announced a grandly named China-Pacific Island Countries anti-COVID-19 Cooperation Fund, worth $1.9 million in total, with $200.000 donated immediately to Tonga for anti-virus preparations.
China's Digital Silk Road post-Coronavirus?
Jude Blanchette and Jonathan Hillman put out an interesting report on the CSIS site that shows just how vital the Digital Silk Road is to China's future ambitions:
But even as China battled to contain the spread of Covid-19, the Communist Party of China (CCP) continued to call for the expansion of 5G investments. On February 21, as much of the country was on lockdown, the CCP's Politburo announced that the expansion of 5G was critical to economic recovery. On March 4, the Politburo's Standing Committee—the apex of political power in China—called for "accelerating the construction of new infrastructure such as 5G networks and data centers."

Confronting arguably the biggest economic and political crisis of his administration, Xi Jinping still found time to personally press the issue of 5G. During an inspection tour of Zhejiang province earlier this month, he declared, "We must seize the opportunities afforded by industrial digitalization and digital industrialization, accelerate the construction of new infrastructure such as 5G networks and data centers, and step up the layout of strategic emerging industries and future industries such as the digital economy, life and health, and new materials."
Trans-Eurasian rail is booming
Trans-Eurasian rail is seeing its highest traffic volumes ever as reactions to the coronavirus pandemic has choked road and air cargo transport and ocean shipping takes a hit. From Railfreight.com:
The number of China-Europe trains operated amounts to a total of 1941, equalling 174,000 TEUs of cargo. A full container rate of 98.1 per cent was recorded. Among the train journeys, the number of outbound trips was 1049, carrying a total of 95,000 TEUs. This indicates an increase by 24 and 28 per cent year-on-year, respectively.

In March, China-Europe trains transported a total of 809 containers and 73,000 TEUs, setting a monthly record. Additionally, these shipments had a 98.9 per cent full container rate. Among them, there were 503 outbound trains carrying 46,000 TEUs. Of these outbound trains, the full container rate was even 100 per cent.
I covered the beginnings of this development on Forbes last month:
The only form of transport left standing is the train, which, compared to other forms of freight continues to run relatively unscathed. Between Europe and China, all trans-Eurasian rail lines—including those from Wuhan—are currently in operation, creating an opportunity for the emerging network to step up and become a larger part of many companies' shipping solutions.

Under normal circumstances, trans-Eurasian rail is generally eight-times cheaper than air freight and only a week or so slower. In these times of elevated air shipping prices and longer transit times in both air and ocean freight means that shipping by rail is becoming more of a viable option for companies that need to receive and send goods between China and Europe as fast as possible.
While a good amount of this additional cargo is more than likely temporary, a reasonable percentage may stick as more companies try out the trans-Eurasian rail product for the first time.
Iran
From RFE/RL:
Rare criticism by an Iranian Health Ministry official of China's controversial COVID-19 figures has angered hard-liners in Tehran, some of whom asked if he was speaking on behalf of the country's archrival, the United States.

Health Ministry spokesman Kianush Jahanpur said at a press briefing on April 5 that China's statistics about the number of deaths and infections from the coronavirus are "a bitter joke."

He added that, if Beijing said it got the coronavirus epidemic under control within two months of its outbreak, "one should really wonder [if it is true]."
As more and more countries experience far worse Covid-19 breakouts than what apparently happened in China, suspicion is growing out of all corners.
Covid-19 in South Africa
Chris Devonshire Ellis of Silk Road Briefing did an excellent overview of the social and economic impacts of Covid-19 in South Africa:
COVID-19 has shown its potential devastating impact elsewhere, but it is a particular cause for concern in South Africa. First, while public health strategies such as social distancing and regular hand washing are encouraged, such strategies are a privilege many cannot afford in the crowded informal settlements that accounted for 13% of all households, many of which may not have access to running water.  Second, the high rate of TB and HIV among the population, in addition to the number of those not on treatment for HIV, have led to concerns that this could impact the severity of COVID-19 in South Africa and make its population more susceptible to the virus. Third, while health systems in high income countries (HICs) are being stretched, most South Africans rely on the public health care system that is under-resourced and will struggle to meet the demand of the epidemic. While the virus does not discriminate on the basis of race, sex or borders, it is likely that it will disproportionately affect the poor and those suffering from other co-morbidities. Although the number of cases as of 15 March 2020 in South Africa remained relatively low in comparison to the rest of the world (61 confirmed cases; 0 deaths) President Cyril Ramaphosa stated that 'urgent and drastic' measures were necessary to limit the spread of the virus and address this emergency. As such, a State of Disaster was declared by the President on 15 March thereby giving Dr Nkosazana Dlamini Zuma, the Minister of Cooperative Governance and Traditional Affairs power to limit certain rights and freedoms within South Africa.
Central Asia economy
I could just begin and end this section with a single word: bad.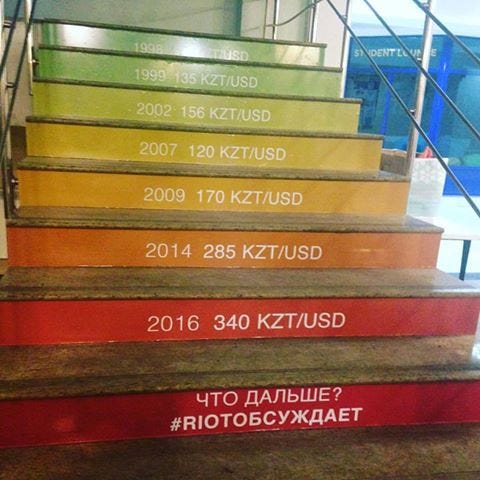 The decline of the value of the tenge to the dollar. They're now going to have to take this stairway down into the basement.
The Covid-19 pandemic has been reducing the world's need for oil and prices have been plunging big time. During a March 6th meeting of OPEC+ Saudi Arabia proposed a reduction in oil production, which Russia didn't comply with. A spat between Moscow and Riyadh ensued, which I won't get into here, but the result was oil prices going lower and lower. However, on April 12th, OPEC+ came to an agreement to cut crude oil output by a record amount, which will hopefully at least end the showdown:
The April 12 agreement requires Russia to cut crude-oil production by nearly one-quarter in May and June, a much deeper reduction than the one Moscow rejected when Saudi Arabia proposed it in early March. And the showdown may come at a steep long-term cost for the Kremlin, harming a relationship with Riyadh that had been budding after careful cultivation.
The fallout from this and the other impacts from the coronavirus pandemic is an extremely grim economic outlook for Central Asia and the Caucaus — two regions that are integral to the New Silk Road. Via Eurasianet.org:
After a lackluster 2019 in Eurasia's energy producers, in 2020 COVID-19 will derail economic stability across the region by "interrupting daily activity, putting further downward pressure on commodity prices, disrupting tightly linked global and regional supply chains, reducing travel and tourist arrivals, and decreasing demand for exports," says the report, Fighting COVID-19, released on April 8.

While stay-at-home orders and the shuttering of non-essential business will sharply reduce economic growth the world over, it is the weakening of the Russian economy (the report expects GDP to contract by 1 percent) and the depreciation of the ruble – due both to the pandemic's effect on business generally as well as the collapse in the price of Russia's chief export, oil – that present the biggest threat to remittance-dependent economies from Armenia to Tajikistan.  
This steep economic downturn has had a dire impact on the currency of many Central Asian countries. In Kazakhstan, the tenge plunged to an all-time low against the dollar, while Uzbekistan has devalued their currency two times within a week.
However, as soon as borders open up again this would be an excellent time to do some Central Asian travels — cheaper costs and the ability to inject a little cash into countries that are on the mend. However, this will probably be the case for much of the planet.
Belarus fake fans
Some countries have fake news; Belarus has fake fans:
Over 1,000 spectators attended a Belarusian soccer match, despite calls from fan groups to stay away during the coronavirus epidemic. Cardboard cutouts were used to fill empty seats. Belarus is the only country in Europe still playing public matches and the country's president, Alyaksandr Lukashenka, has played down the domestic impact of the virus, despite dozens of deaths.
Conclusion
That's about it for this week's Silk Road roundup. If you have any stories that you'd like covered or anything interesting that you'd like me to check out, please get in touch. As always, On the New Silk Road lives on user support, so if you are able please consider subscribing. Thank you.
-Wade