Discover more from On The New Silk Road
Journeying Through China's Artery Of Power
The Future of China's Belt And Road After The Coronavirus Pandemic
Will we still be talking about the New Silk Road when this is over?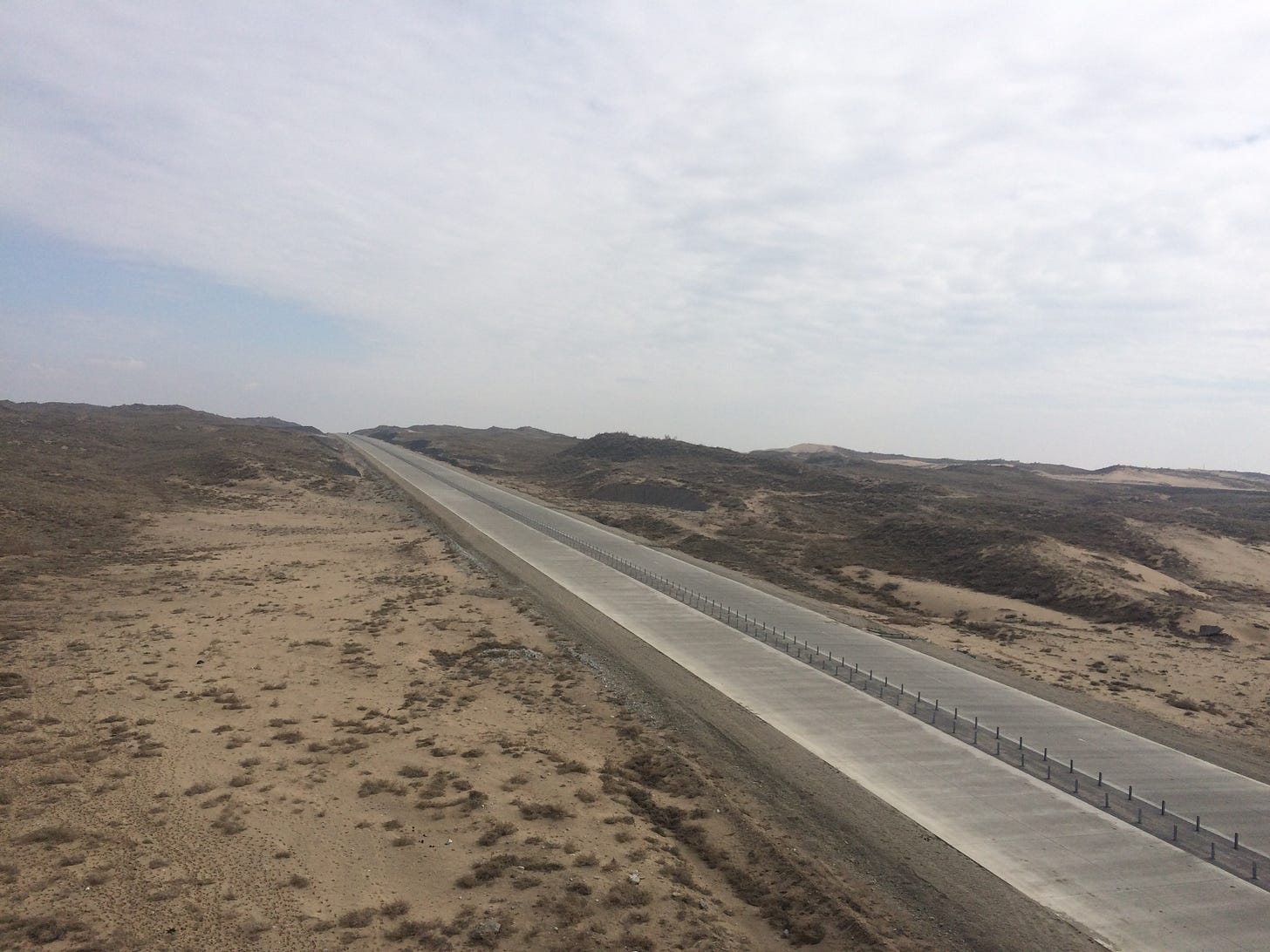 What will become of China's Belt and Road Initiative and the broader New Silk Road in the wake of the novel coronavirus pandemic?
This is probably the question that I'm asked most these days, and it's a question that can spark many different responses depending on how you look at it. The most accurate answer is, of course, "I have no idea." However, intelligent speculation is essential to lay down coherent plans and a framework for the road ahead.
To these ends, I've asked this question to a wide array of Belt and Road researchers, travelers, and operations specialists. This is what they had to say:
Plamen Tonchev, Head of Asia Unit at the Athens-based think-tank Institute of International Economic Relations (IIER):
We need to see the precise impact of the outbreak and that'll take some time, but it is reasonably safe to assume that there will be considerable delays in the execution of a number of BRI contracts. Some delays are already being recorded, with thousands of Chinese workers being stranded at home. In addition, the delivery of Chinese equipment may also be delayed, after the extensive lockdown in China and the suspension of industrial activities for more than two months.

At a later stage, funding may be in short supply:

The recovery of China's domestic economy will be Beijing's utmost priority in 2020 and that will require much-needed resources. BRI will be hard to sell domestically and mostly probably won't be publicized in China for a while.

All the countries along BRI routes will find themselves in a tight spot and there will be an ever-growing demand for infrastructure, but extremely limited resources available in the wake of the outbreak. Chinese banks will be particularly "picky" and wary of giving loans that may turn out to be non-performing.

A diplomatic fall-out cannot be precluded, but this will depend on the extent of the socio-economic damage sustained by BRI recipients in South and Southeast Asia as well as in Africa and Europe. It'll be interesting to watch China's ongoing "charm offensive" with the provision of health equipment and whether this soft-power push can turn the tables on Beijing's critics.
Chris Devonshire Ellis, founder of Dezan Shira & Associates and editor of Silk Road Briefing:
The BRI will be fine. It's a core pillar of China's state overseas investment policy. Covid-19 won't have much impact other than slowing it down a bit while Chinese labor is locked down. China needs the supply chain infrastructure build and is funding less wealthy nations at lower rates than is typically available to them.

For example, China is an A+ rated economy and that means it can borrow at lower rates as the risk element is reduced. Countries such as Kyrgyzstan for example are B2, interest rates are higher if they want to borrow. All China does is provide the loans at far lower rates that countries like Kyrgyzstan cannot obtain anywhere else. You look at practically all the countries along the BRI it's the same story. Borrowing money from China for less cost than is obtainable elsewhere. So that's the infrastructure cost dealt with. What about the repayment?

The repayment aspect comes in the use of the infrastructure build and the economic and commercial development that brings. For example, Sri Lanka's Southern Expressway from Colombo to the South Coast beaches cost nearly US$350 million as a capital expenditure. The highway reduced travel time from 5 hours from Colombo to Galle to 90, then now 60 minutes. I know, because I have property there and remember the previous, tedious and busy old coast road journeys.

Consequently, the tourism industry that it services has expanded in size from US$3 billion in 2016, when that was completed, to US$4.5 billion annual revenues by the end of 2018. This means that Sri Lanka borrowed US$350 million at low interest rates to have the Chinese build the Highway, yet is receiving an additional US$1.5 billion per annum in additional revenues afterwards. That's a good deal, even if the Sri Lankan's paid over the odds for the road.

There will be bad infrastructure investments and some white elephants built along the BRI. But the majority of them make complete economic sense. It's exactly what China did at home, and I recall then Premier Zhu Rongji stating quite clearly several years ago "If we build the infrastructure, the money will come." The Belt & Road Initiative is no different. As I said previously: China's Belt & Road Initiative - It's About The Trade Opportunity, Stupid.
Dr. Frans-Paul van der Putten, Senior Research Fellow at the Clingendael Institute:
BRI is an instrument for China to strengthen its economic ties with other countries, and to increase its influence over those economic ties. The decline in global trade that results from the corona pandemic is likely to lead China to play a more active international role in order to stabilize and strengthen the country's foreign economic relations.

Current frictions between China and other countries, in particular the US, stimulate the Chinese government to actively take measures to prevent China from becoming economically isolated. Therefore, the combined effect of the pandemic and geopolitical tensions may be that the Chinese government sustains and further develops the BRI program.

However, infrastructure financing, while still important, is likely to play a less prominent role compared to previous years, due to greater risk awareness by both China and host countries. As a result, the amount of money that China lends for new construction projects abroad is likely to decrease.

But there are other ways in which China can improve its external supply chain efficiency that involve less opposition. Key actors for BRI are Chinese commercial banks, trading firms, e-commerce platforms, telecommunication companies, logistical service providers, and transport companies. In the coming years they may strengthen their global market positions, with support from the Chinese government, through new and deepened strategic partnerships with non-Chinese companies and governments, in combination with low-profile acquisitions of some foreign assets.
Sebastian Holler, co-founder of EUROPE GOES SILK ROAD and Silk Road traveler:
The post-pandemic effects on the Belt and Road Initiative depend on how long the pandemic will keep hampering the revival of global exchanges. Yet it is not clear when the movement of people can restart, let alone when it will reach the pre-COVID-19 level again. If current expectations of several COVID-19 waves until an available vaccination and sufficient immunisation of world population in 2022 prove to be true, then not only the world economy will be traumatized but also the minds of people. Wide-spread globalisation anxiety could not only hamper global flows but also put nationalist leaders with isolationist world views in power.

The positive globalisation narrative of the Silk Road could also become severely damaged, with the newly rediscovered pandemic threat which is a consequence of all deeper global integration processes. An unbundling of global supply chains will take place with a re-nationalisation or insourcing of crucial production sectors. Goods will still travel along the Belt and Road corridors, but further infrastructural and economic integration projects could decelerate.

Whereas current travel restrictions severely hamper personal people-to-people encounters, new digital communication tools arise and are adopted by society. They will trigger new developments under the Digital Silk Road framework. Taking the recent proposal of Huawei to Italy into account and also the Health Silk Road will have a strong digital component and will be more than just face masks.
Carlos Santana, general manager at Yixinou (the company that runs the Yiwu to Madrid rail line, among others) and Adjunct Professor at IE Business School:
First and foremost, it is time to do everything in our hand to end this crisis. However, while ending it we must think and reflect about the future, which probably won't be as we imagine before.

Our rail routes respond to the need for more sustainable transport with less environmental impact and time-efficiency oriented. IMHO, railway transportation was where the logistic industry was leading pre-crisis. This whole situation has just accelerated it.

The coronavirus crisis has radically transformed all spheres of our lives, especially the personal one. The crisis has transformed our reality and accelerated many changes: implementation of telecommuting, labor relationships, or the digital transformation within companies, amongst many others. The supply chains and logistics sectors were not left out of the general reflection that needs to be made about our way of understanding the world.

BRI was an international initiative born in China but with the aim of being global. Under its umbrella our project was born. As the rest of the international projects it cannot be fixed; otherwise are condemned to disappear.

Citizens, companies, institutions and all stakeholders will need to pivot to adapt to new challenges. All the global institutions (or companies) that do not, will lose credibility, influence and leadership.

China always adapts perfectly to the different scenarios without losing its essence. I am sure BRI will keep being a useful and powerful tool to achieve growth and get back to "normal" after the crisis.
Jacob Mardell, researcher at the Mercator Institute of China Studies and Silk Road traveler:
Covid-19 changes everything, but the Belt and Road is here to stay. We will be tracing the fallout from this first pandemic of the digital age for the rest of our lives. We can't know the shape of our post-pandemic world, but unless we are beaten back to the dark ages, I'm guessing the Belt and Road will have a place in it.

The Belt and Road Initiative is the name Xi Jinping gave the world for China's global ambitions, and for as long as he survives, those words will continue to hold rhetorical significance. The projects they describe will also exist in our post-pandemic future.

However, the global economy is in trouble. A good many BRI loans will pass their grace periods soon, and countries indebted to China may struggle to make payments. Rock-bottom oil prices, dried-up remittance flows, and decimated export sectors are hitting developing countries hard. How Beijing treats its debtors will be a test of its worth as a global leader. China is also suffering, but economic crisis won't lead straight to austerity – the BRI isn't an aid program and Chinese companies benefit as much from BRI loans as local governments do. China Development Bank has already signed one Covid-19 linked loan - $500 million to Sri Lanka – and Beijing will probably continue in its role as creditor post-covid.

It's tempting to see the BRI as a conduit for disease, and to envisage a post-pandemic world allergic to globalization, but Tajikistan won't stop needing paved roads just because protectionism is on the rise. If the world becomes a more distant place because of our shared vulnerabilities, that is symbolically damaging for an initiative that professes to be building a "community of common destiny," but the BRI is also about economic fundamentals like building power plants.

Covid has exposed our shared vulnerabilities, but the Black Death rampaged before humans flew in the sky, and total autarky probably isn't on the cards.

BRI spending was tapering off pre-pandemic and that trend will probably continue. Spending might also see a shift in focus towards the Digital Silk Road and the high-tech, cost-effective solutions it offers. Beijing's "Health Silk Road" has already come into focus, and assuming humanity has been sufficiently burnt by this pandemic, I can imagine a serious role for the BRI in future global public health efforts.

A more serious problem for the BRI is how and when we get to this imagined post-pandemic world. While we are without a vaccine, international travel remains a memory. Under these circumstances, the world holds its breath, and work on the BRI crawls to a standstill.
Jonathan Hillman, Director of the Reconnecting Asia Project at the Center for Strategic and International Studies (CSIS):
Coronavirus is exacerbating many of the Belt and Road's preexisting ailments. We're looking at an environment where resources are even more limited, animosity toward Chinese workers is higher, and Chinese tech companies continue to face scrutiny in Western market. All of this suggests the digital silk road will accelerate.
David Smrkovsky, former global logistics manager at HP and Foxconn:
The economies in Europe and elsewhere in the world will be weakened. I would not be surprised if we see something that happened some years ago with Greece, when Greece was struggling financially in the last economic crisis and they were selling parts of the state infrastructure, for example, Piraeus port to China. I would not be surprised to see more examples of this. I imagine Chinese state conglomerates are already looking to buy because there are some discounts right now. It doesn't have to be transport or infrastructure related; it can be any company.

There can be some links between the BRI and the pandemic, because the pandemic weakens certain countries. Gor some countries, it's an economic disaster from which they will be recovering for years. Some countries, their debt is so high that they will probably not be able to raise the needed money from additional lending but they will simply sell something.

It could be a boost to the BRI to get some elements on the global transportation map under the control of Chinese companies. There could become a need to sell or privatize certain parts of the infrastructure and there comes a question of who's going to buy it? In this case, it will be China first and, sometimes, the only potential candidate.
Wade Shepard, author of On the New Silk Road
The coronavirus pandemic and its subsequent fallout will not change the fact that the development that comes via the Belt and Road is wanted and, in some cases, needed in the markets it touches. The infrastructure-funding gap in Asia and Africa is not going to go away because of a virus. While demand may lessen in the short-term, one of the main ways that countries stimulate their economies is through infrastructure development — as we've seen in China in the wake of multiple economic downturns. So the pandemic may actually become a boon for the Silk Road.

Even before the pandemic, the countries of Asia were not jumping up and down to become Chinese vassel states. Many pivoted to China because few other options were available to pursue the development paths that they desired. As Chris pointed out above, by going through China countries with lower credit ratings can get cheaper loans for their infrastructure projects. If we look at a rundown of major BRI endeavors to date, we will find that many of them were the result of national governments approaching China looking for support for their pet projects rather than Beijing coming in and imposing their own plans. So even though Beijing's global image is taking a big hit due to the pandemic, this won't change the fact that China is the only game in town for many countries.

However, in the short-term, we should probably expect many countries to try to restructure their loans and other financial obligations to China, which, I imagine, China will attempt to spin into a positive by offering more funding for new projects. We can't lose sight of the fact that China's objectives and the objectives of many countries along the BRI will remain one and the same, and keeping construction firms operating, laborers working, and markets emerging will be way more important than any diplomatic squabble. If anything, as David pointed out above, as economies around the world embark on pandemic recovery initiatives China is going to become more needed than ever. The BRI isn't going anywhere. In fact, it will probably come out of this mess stronger than it was before.
What's your take? Let us know in the comments below.