Discover more from On The New Silk Road
Journeying Through China's Artery Of Power
The Hidden Economic Rationale Of China-Europe Rail
As the trans-Eurasian rail network matures skepticism is running rife about its economic viability. However, these trains are about something much bigger than simply turning a profit.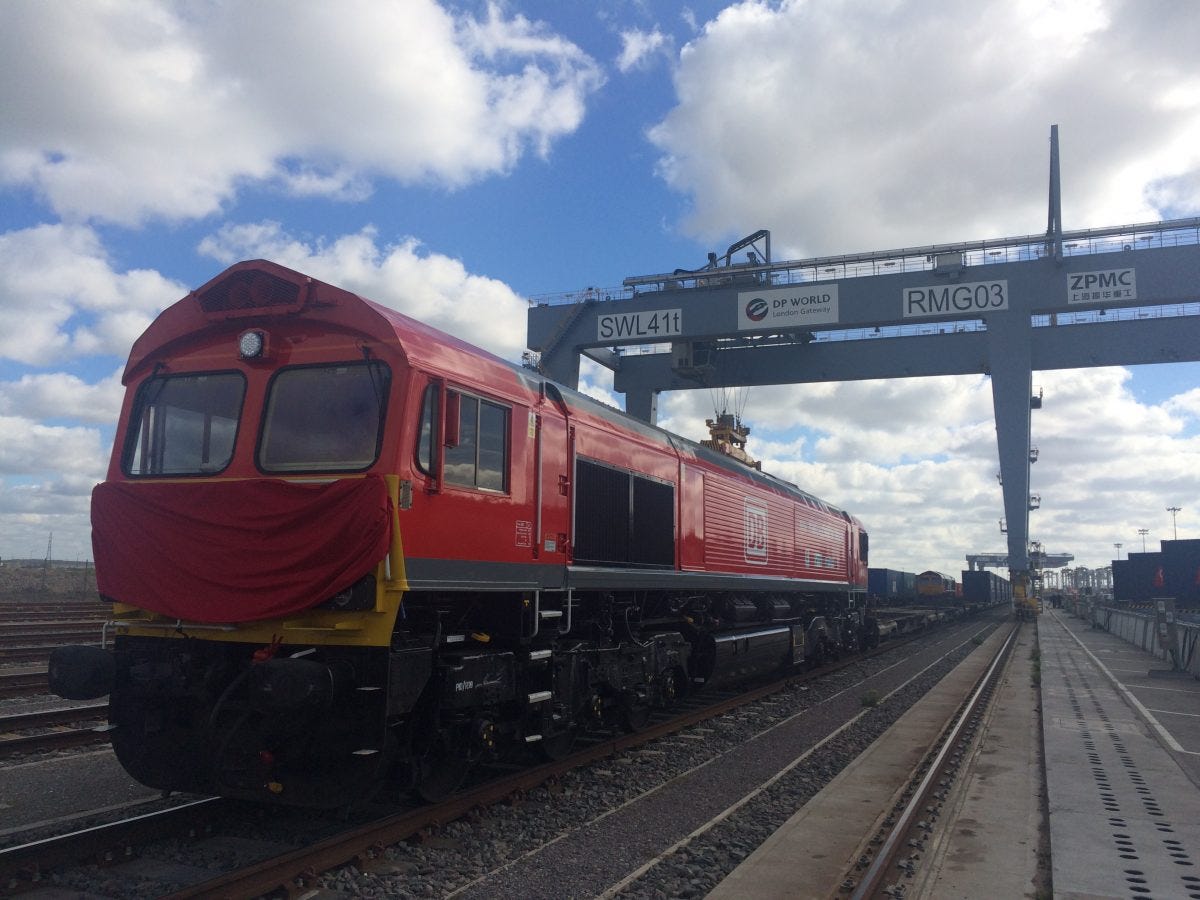 The first UK to China train set to depart from London Gateway.
It's 2018 and trans-Eurasian rail is nothing new. Freight trains have been regularly traversing the 12,000 kilometer expanse between China and Europe for six years now, as the transport method matures from a once counter-intuitive oddity to a standard logistics offering. Each year, more cities in China, Central Asia, the Middle East and Europe are linking into the network -- which currently boasts over 60 cities -- as the number of trips and cargo volumes rise exponentially. However, the economic rationale behind this continent-crossing rail operation is often called into question, with many analysts using tit-for-tat, profit/loss metrics to gauge its present and future viability, which often miss the plot entirely.
The current trans-Eurasian rail product was started by multinational companies in China for purely commercial reasons. This was in the pre-Belt and Road days and these trains were not yet harbingers of Chinese soft power and politics -- Beijing's "new pandas," some could say. When companies like HP, Dell and Foxconn began moving production to inland cities in China in the mid-2000s they found themselves in a logistical conundrum: Were they really going to ship their products 1,000s of kilometers east to sea ports just to ship them back west again? Were they going to send everything by costly air freight? Or would they come up with another solution? That other solution soon presented itself: rail.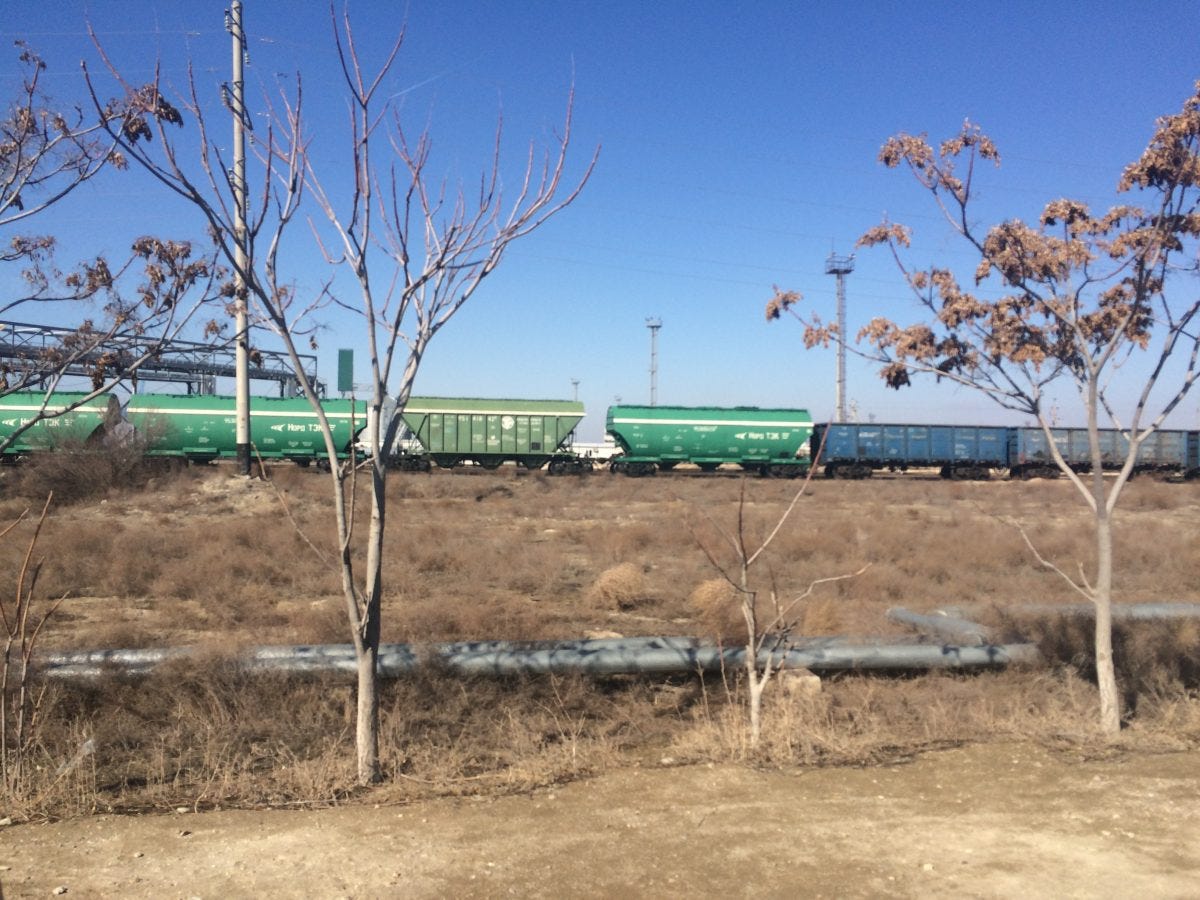 Train waiting to be loaded onto a ferry to go across the Caspian Sea.
If we look at the where the highest frequencies of trans-Eurasian trains depart from in both China and Europe we often find massive high-tech (or other) industrial zones. These trains are linking cities such as Chongqing, Chengdu and Zhengzhou -- the new arteries of China's manufacturing empire -- with Duisburg, Hamburg and Warsaw -- Europe's industrial giants. These are the places where the ideal cargo for these trains is manufactured: high value, heavy weight electronics and machinery. These are products which the clients often want to get to their destinations as soon as possible and are valuable enough to make the extra $1,000 per container that they cost over ocean shipping more or less inconsequential -- an additional thousand bucks means little when the value of the container is measured in seven figures.
To put it another way, these trains are not designed to ship British soft drinks to China -- regardless of what the press releases claim.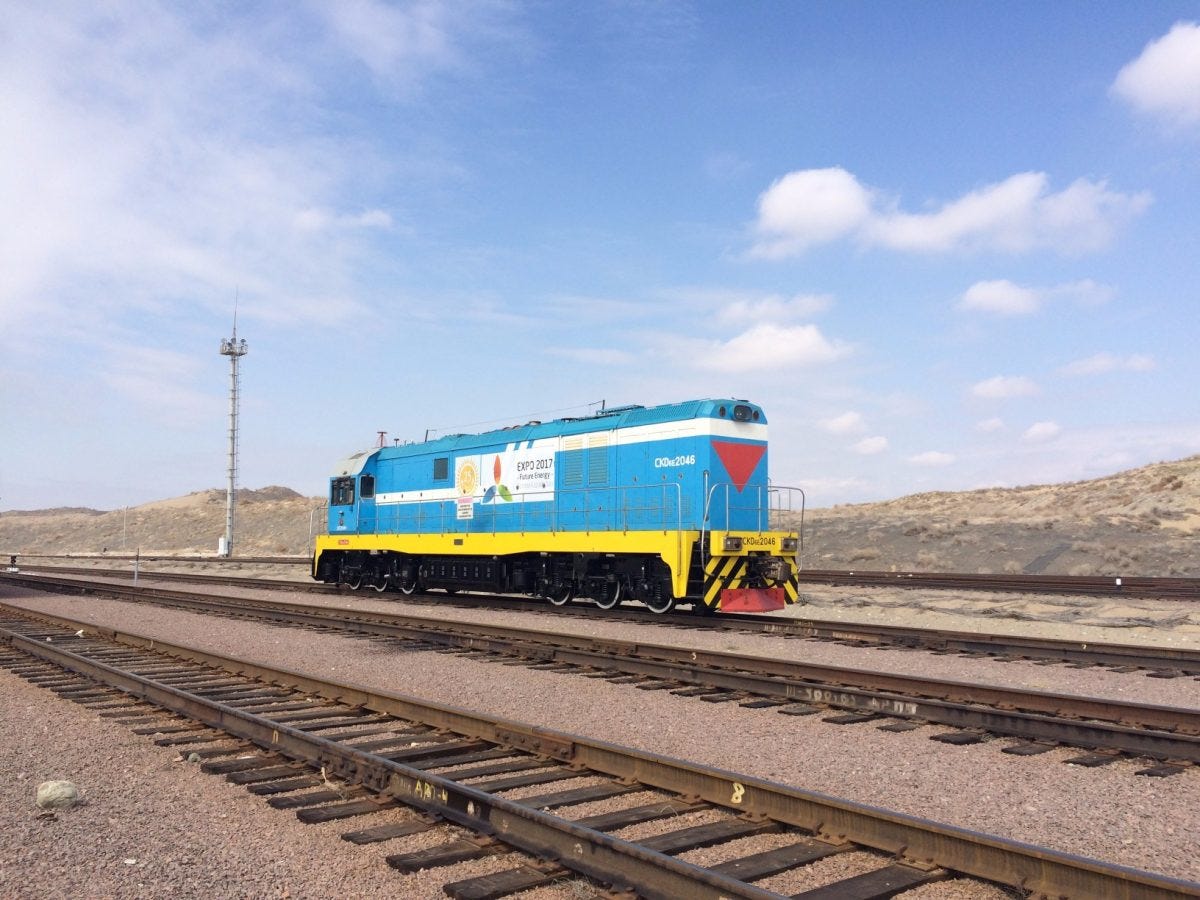 A trans-Eurasian train crossing into Kazakhstan from China.
It is often critically pointed out that trans-Eurasian rail only carries the smallest fraction of the cargo streaming between China and Europe (1% volume in 2016), however, [tweet_quote display="The trans-Eurasian rail product is not meant to compete with ocean shipping or air freight, but to compliment them."]the trans-Eurasian rail product is not really meant to compete with ocean shipping or air freight, but to complement them.[/tweet_quote]
The new world of logistics is multimodal -- shipping strategies that string together ocean, rail, air and road transport into complex routes that can get products to their destinations faster and/or cheaper. Many of the companies that are heavily involved in trans-Eurasian rail often have large presences in other types shipping. In addition to freight forwarders like DHL, who move products for their clients by "any means necessary," ocean shipping firms like COSCO, the Port of Lianyungang and DP World are etching out positions for themselves along the overland corridors of the Belt and Road. Also, if we look at China's recent developments in logistics, we see new trans-Eurasian rail stations concurrently being built in proximity to new airports, and the emergence of truly multi-modal shipping hubs.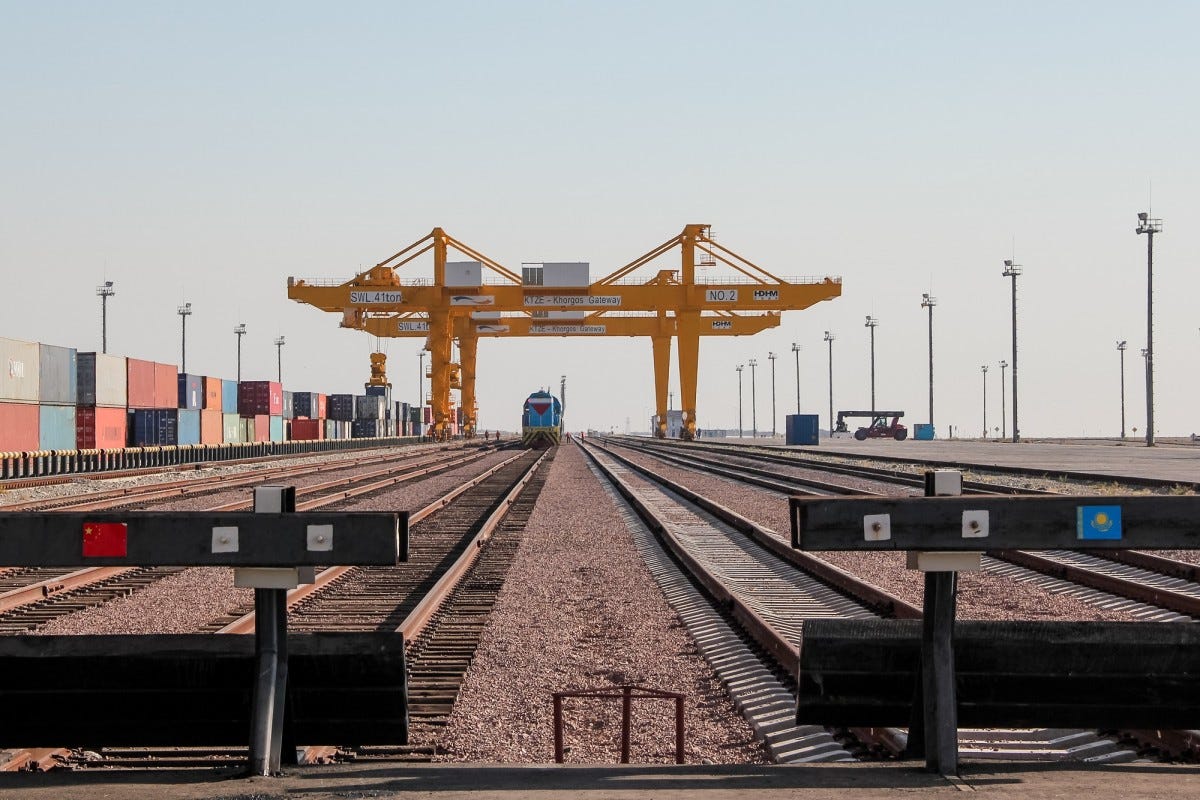 "The place where east meets west." This is the Khorgos Gateway dry port where trains from China and the CIS need to change rail gauge. Image: Khorgos Gateway.
New markets opening

It is a mistake to overvalue tit for tat, profit/loss metrics for Silk Road projects at this juncture. Most of these projects are not about making a profit in the short-run -- or even at all -- but about creating a platform for future development. They offer the possibility for once-remote locations to develop new economic sectors -- sometimes changing the very paradigms that these places are currently based on.
This is a model for development that China has extensive experience in:
[New city building in China] was less about cashing in on constructing new developments than it was priming new economic engines that could create and sustain additional growth … Using the full gamut of financing, engineering and administrative tools available, China engaged in a full-scale national shake-up, as more than a hundred large-scale urbanization projects were carried out to fruition, being populated with companies, institutions and residents -- by guile and fiat. Virtually overnight, former backwaters like Chengdu, Chongqing, Wuhan, Xi'an, Kunming, and Guiyang emerged as China's best performing cities, being relaunched with revitalized historic cores paired with shiny new areas that boasted high-tech R&D centers, modern shopping malls, new airports, high-speed rail stations, sprawling industrial zones, and more middle-class housing than anyone could really have any use for.
Without trans-Eurasian rail there is no Khorgos Gateway, without Khorgos Gateway there is no 5,000-acre Khorgos East Gate special economic zone, without this special economic zone there is no Nurkent, a purpose-built new city that's going up for an expected 100,000 people on Kazakhstan's border with China.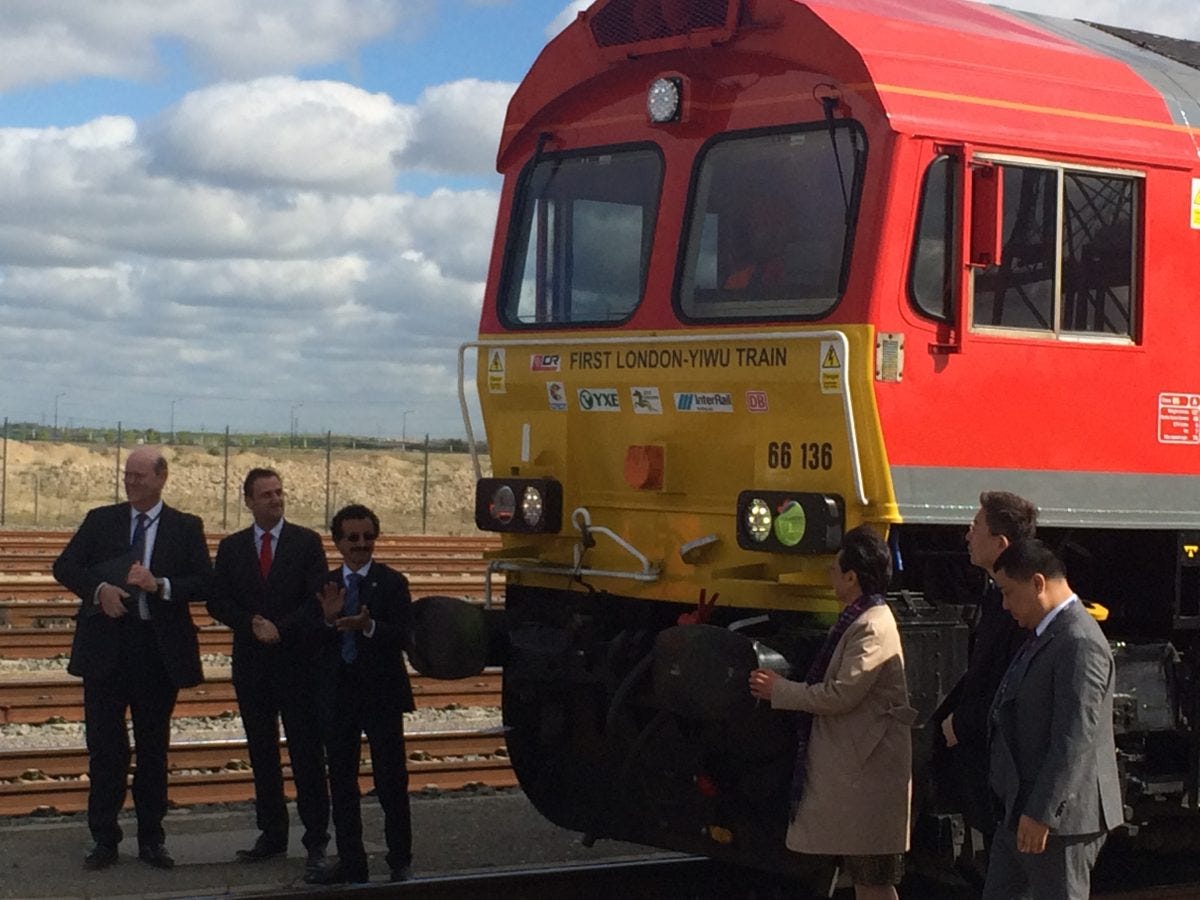 The U.K. Prime Minister's Business Ambassador for Infrastructure & Transport Rupert Soames, Karl Gheysen of KTZ Express, and Sultan Ahmed Bin Sulayem, the CEO of DP World unveiling the first UK to China direct cargo train.
It's called transit-oriented development, and it's the way that most of humanity's economic and cultural centers were created all through history, and is currently the driving force behind most New Silk Road development. Right now, an entire array of logistics zones are rising up in places that are far from the sea, like Kazakhstan, Azerbaijan, Eastern Europe and far western China, with the goal of not only having these trains roll through but to stop and be reconsolidated, ideally sparking local manufacturing and distribution potentialities that could, in theory, stimulate new commercial and residential areas.
'Soft infrastructure'
The biggest accomplishment of the trans-Eurasian rail network was perhaps in the realm of "soft infrastructure" -- the realm of politics. These trains essentially put the governments, customs agencies and transport companies of China, Kazakhstan, Russia and the EU on the same page. They required countries with very different political, economic and infrastructure conventions to work together, providing a physical link of cooperation between them that can serve as a framework for bigger partnerships. This is really what these trains are about -- and makes it worth the estimated $1,750 per TEU in subsidies that China is currently pumping into them.
The New Silk Road is designed to shake up our existing paradigms of how we think the world works. We're seeing economies that were traditionally based on resource extraction transitioning to become transportation hubs, untouchable backwaters becoming regional centers of manufacturing, and previously irrelevant mid-tier cities becoming catalysts for high-tech innovation and consumerism. While I admit that it all sounds a touch whimsical or even romantic, this is exactly what we see being attempted on the ground today -- and those trains rumbling on their 15-day journeys across Eurasia are a big part of the story.