Discover more from On The New Silk Road
Journeying Through China's Artery Of Power
Trains Are The New Pandas: The Real Impact That The New China-UK Rail Line Will Have
Soft power is a real thing.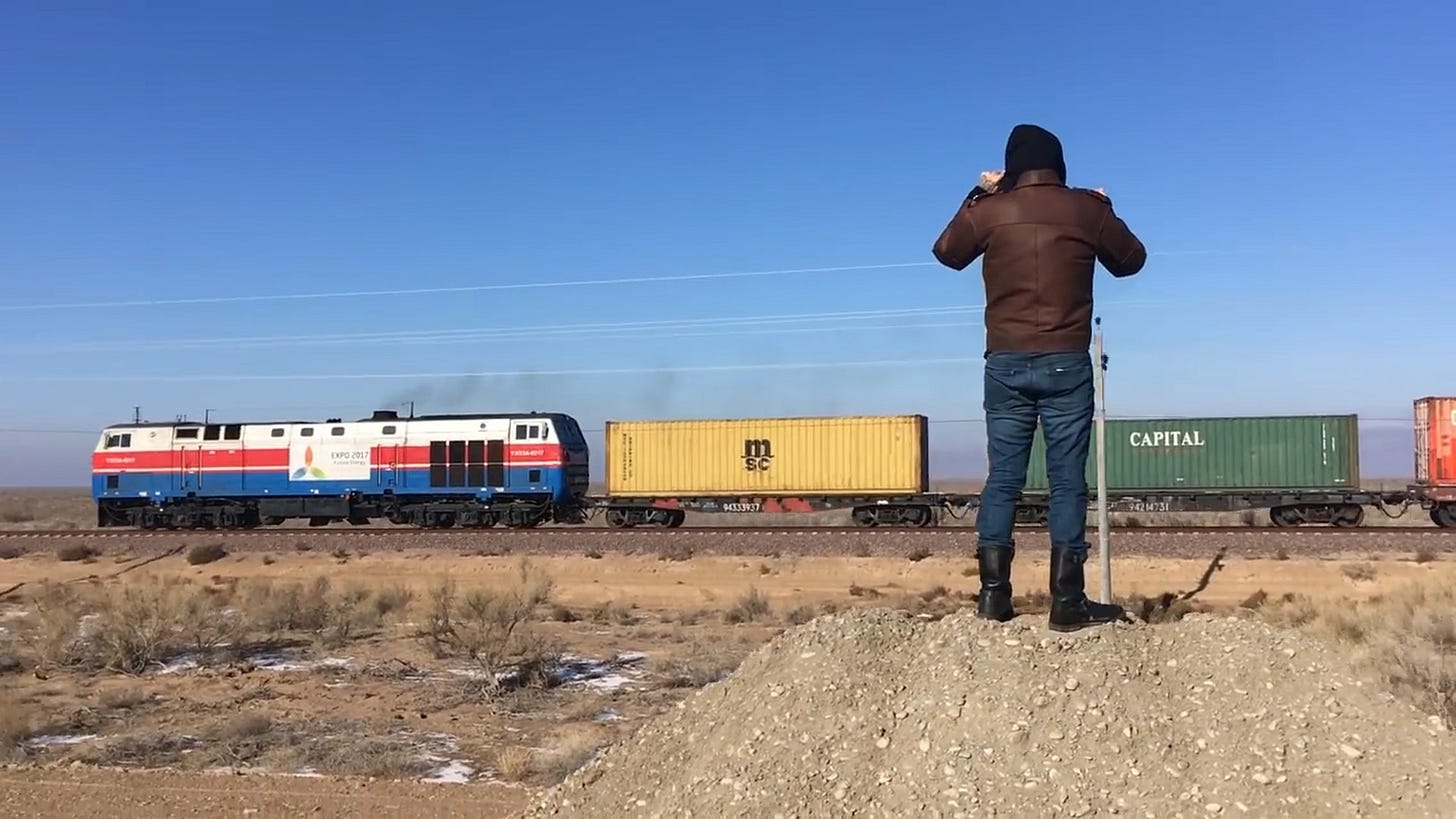 A 200-container block train pulled out from the West Railway Station of Yiwu, in China's coastal Zhejiang province, on Monday, January 2nd. Its destination was not nearby Shanghai, Beijing, or even the booming city of Chengdu in the west, but Barking — as in the London borough. This train, laden with clothes, bags, and household items, will make the 12,000 kilometer journey in 16 days, and symbolically usher in a new stage in China-UK trade relations.
This new rail route, which will traverse Kazakhstan, a part of Russia, Belarus, and the EU before entering the UK via the Channel Tunnel, is part of a rapidly growing network that now consists of 39 rail lines, which directly connect 16 cities in China with 15 cities in Europe.
What is now a paradigm-shifting international trade network, arose from humble beginnings in Chongqing in 2012. Ronald Kleijwegt, the director of the logistics team at HP, began looking for a better way to ship the electronics and components that his company was manufacturing in central China to Europe in the late 2000s. By 2012, he had the kinks worked out and began offering the first regular direct China-Europe rail service, which linked Chongqing with Duisburg in Germany. From this point, a veritable network rapidly began arising, with new lines connecting cities like Chengdu, Suzhou, Lianyungang, Wuhan, Xiamen, Zhengzhou, and Yiwu with Lodz, Warsaw, Madrid, Hamburg, and Lyon.
The economic fundamentals of this trans-Eurasian rail service is sound: these trains allowed manufacturers and freight forwarders to get their products between China and Europe in less than half the time of shipping by sea at a fraction of the cost of shipping by air. While these trains are not a viable form of transport for all types of products, they fill a void in the market for high-value products that need to be transported as quickly as possible, such as electronics, fashion items, car parts, heavy machinery, premium agricultural goods, and fresh meat.
While these direct trans-Eurasian block trains were initially developed by commercial entities purely for economic reasons, they soon took on a geopolitical dimension of their own. In 2013, China announced its Belt and Road initiative (BRI), which pledged over a trillion dollars to bolster the development of transportation, energy, and trade infrastructure from the west of China to the east of Europe, and the establishment of these rail lines soon became its vanguard -- which is attested to by the fact that the entire network is subsidized by the Chinese government.
This ambitious plan was to guide China's participation in the preexisting New Silk Road project. Starting in the late 1990s, the Post-Soviet countries of Central Asia and the Caucasus began looking for new ways to boost their international relevance as well as their ailing economies, and many found inspiration in the romantic iterations of their history, when they were vibrant hubs along the Silk Road. Today, the re-creation of this ancient trade network has become one of the biggest infrastructural, economic, and political developments happening in the world. The countries of the Eurasian landmass, from the east of China to the west of Europe are gradually being pulled together into a contiguous market covering 60 countries, and 60% of the population, 75% of the energy resources, and 60% of the GDP in the world. It has been estimated that within ten years trade throughout this region could top $2.2 trillion annually.
Yiwu, a city of roughly 1.2 million people that's probably best known as the place where a huge portion of the world's Christmas decorations come from is now directly connected by train to Barking, a borough of London that's probably best known as the worst place to live in the entire UK. This is a trade route whose impact will extend far beyond merely being a mechanism for shipping a relatively meager amount of goods. This is not only a physical but a conceptual link tying together China and the UK via Central Asia, Russia, and mainland Europe. In essence, it is part of the soft power groundwork that further investment partnerships can be built up from.
With the UK's future position with the EU looking uncertain due to Brexit, a potentially new paradigm for the island nation's international relations is gradually revealing itself. And right on cue, China was at their doorstep.
All along the countries of the New Silk Road, China has been demonstrating the uncanny ability to fill economic and diplomatic vacuums wherever they arise. Seemingly as soon as a country has a diplomatic break up with a larger political power, China steps in offering economic, political, and, occasionally, military support to make up the difference.
When the US and EU slapped Russia with sanctions in 2014 over the conflicts in Ukraine and Crimea, China was right there with investment offers — which included a $15 billion bid to build a high-speed rail line between Moscow and Kazan — the establishment of a linked Sino-Russia electronic payment network, better synergy between the Moscow-led Eurasian Economic Union and the Belt and Road initiative, as well as increased cooperation in industries, such as aerospace, science, and finance.
When Sri Lanka was brought up on charges of war crimes and the US turned off its aid flow and the EU declined to re-up its preferential trade concessions in the later half of the 2000s, the country simply did an about-face and aligned instead with China. The result was a spree of large-scale infrastructure projects, which included a new deep sea port, a container terminal, an international airport, a slew of highways, a massive financial district meant to rival Singapore and Dubai, and potentially a 15,000 acre industrial zone.
And when the US reputedly denied the Philippines arms and President Duterte when on his embarrassing tirades against Obama, China was who he ran to.
The UK is no different. The country's dislocation with the EU was an invitation for China to up its efforts to engage economically and politically — something which the UK may need more than its East Asian suitor. As put by Kerry Brown on The Diplomat in October:
Firstly, because as the UK risks alienating its key trade and economic allies in the European common market, the need to open up new high growth areas like that with China increases. The option in the past of treating China as a remote, more distant prospect is receding. Suddenly all the grand promises in the past of trading with Beijing in a new, expanded way have to become reality much quicker than was ever expected.

Brexit will make the UK a weaker partner with China, and a dependent and vulnerable one. It is a lamentable outcome. And the likeliest attitude that will eventually prevail in Beijing will not be respect, or even malice towards the UK. The Chinese have bigger fish to fry. It will be more like sporadic pity, with the occasional flashback to memories of a time when the UK mattered – a dismal outcome for a country that, until recent times, was influential, respected and often admired in China despite its complex history.
Plans are already underway in the UK for major Chinese-led development projects, including the Hinkley Point nuclear plant, potentially a new $2.12 billion Asian-focused financial district in the old East End dock area of London, and something called the Spire London project, which seeks to erect Europe's tallest residential building in Canary Wharf. According to CBRE Group Inc., Chinese enterprises invested around $5 billion in London property in 2016 — a record amount — and London is in the process of becoming one of the largest centers for RMB trading in the world. While Chinese companies may gradually move their European headquarters from the UK to the EU, a more independent UK is looking to be very attractive to Chinese investors, which could ultimately result in closer economic ties, according to Angela Stanzel of the European Council on Foreign Relations.
While this new direct rail route from Yiwu to London will provide a new, more cost effective and efficient way to ship products from one side of Eurasia to the other, its true benefit will be found in the conceptual link that it establishes between China and the UK. Trains have become the new pandas in Chinese diplomacy.