Discover more from On The New Silk Road
Journeying Through China's Artery Of Power
Violent Protests Against Chinese 'Colony' In Sri Lanka Rage On
A rising tide may not lift all ships.
During a recent visit to China, Sri Lanka's former president Mahinda Rajapaksa warned that there could be mass public unrest in Sri Lanka if China was to carry out its plan to take over the Hambantota deep sea port and create a nearby 15,000-acre special economic zone. While the former president has not been hesitant to publicly heckle his country's current administration, who unexpectedly ousted him in early 2015, he seems to have been on point here:
Earlier today, as the ceremonial first brick of what has now been dubbed the Southern Industrial Zone was laid in Hambantota, the place erupted in violet protests which left more than ten people hospitalized and many others incarcerated.
On the eve of the second anniversary of Sri Lanka's President Maithripala Sirisena coming to power, a groundbreaking agreement was to be finalized with China that would dictate the future of the the country's southern Hambantota region for generations. According to the plan, an 80% share of the Hambantota deep sea port as well as land for the massive new industrial zone would be ceded to China for the next 99 years in exchange for $1.1 billion in debt relief.
While Sri Lanka's Prime Minister Ranil Wickremesinghe previously declared this deal to be "a once in a lifetime opportunity" to boost his country's economy and help with its colossal debt crisis, many people in Hambantota don't quite agree. A group of demonstrators led by Buddhist monks from nearby Amabalantota took to the streets as the opening ceremony of the industrial zone took place.
However, these protesters were met by mobs of government supporters, who reputedly attacked them with clubs and fists. The monk-led demonstrators fought back by throwing rocks. The police, meanwhile, found themselves in the middle of the fray, using water cannons and tear gas to disperse the crowd. Ambulances were seen carting away injured demonstrators and law enforcement officers.
The main reasons for the protests against the impending Chinese handover was the perceived loss of autonomy to a foreign power as well as the potential land grab that could be necessary to build the 15,000-acre industrial zone.
"We are against leasing the lands where people live and do their farming, while there are identified lands for an industrial zone. When you give away such a vast area of land, you can't stop the area becoming a Chinese colony," local politician DV Chanaka was quoted as saying by Al Jazeera.
When discussing where the land would actually come from to build this industrial zone, the Sri Lankan government was quick to claim that it would not be taken from the local elephant and bird sanctuaries, or from any operating stone quarries, or from the area that was previously reserved for a housing development for government officials, or even from the land earmarked for the port to expand. It soon became clear to the locals that the only land left for a development of this scale would be their villages and farms, which they depend on for their livelihoods. As former president Rajapaksa already pointed out in China, they didn't like the sounds of this.
"When we first heard that the government was planning to give away 15,000 acres of land from Hambantota to China we remained vigilant as to find out from where these lands are going to be acquired. It was when the DS officials appeared in Medilla with surveyors that we realise that Medilla is the victim. So all the residents in Hambantota banded together to protest against this land grab," a local resident named H.E. Yasaratne told the Sunday Leader, a Sri Lankan national publication.
Meanwhile, the Ceylon Ports General Employees Union have been protesting the impending 99-year lease of the lion's share of the Hambantota deep sea port to the China Merchants Ports Holding Company by wearing black armbands while they worked in the ports of Hambantota, Galle, and Trincomalee.
"But the argument against the arrangement is that the country will have virtually no control over the port which in course of time might become a national and strategic asset," journalist P.K.Balachandran wrote in the New Indian Express. "The Hambantota port will be Chinese and not Sri Lankan. And that could also mean inviting unwanted international strategic interest in the port and converting Sri Lanka into a theater of regional and global rivalries, principally between China and India."
As of now, Sri Lanka has only inked a framework agreement with China in regards to the lease of the port and the land for the industrial zone. While this agreement was expected to be signed into formal policy today, January 7th, the public reaction against it has caused Sri Lanka to step back and re-evaluate the deal. To these ends, a government committee has been created whose job it will be to re-negotiate the agreement with China and devise a final plan by the end of the month.
The story behind Sri Lanka's Hambantota mega-project is a complicated and twisted dive into domestic and international politics, geo-economics, big national ambitions, and the hunger of China to expand its economic reach, as I've previously covered on Forbes.com:
Developing the Hambantota region started as a dream of former president Mahinda Rajapaksa, and has become emblematic of his highly-controversial reign and is a highly polarizing topic within Sri Lanka. The vision was to build a number two city that would grow up around an emerging deep sea port in an under-developed, jungle area that's best known for its pristine beaches and wildlife preserves.

The Hambantota dream hasn't quite worked out as designed. Infrastructure development is always a long-term endeavor, but building a completely new city and economy up from scratch in a remote area is another level of undertaking altogether. Without an accompanying industrial zone or other local businesses to drive demand, Hambantota's deep sea port struggled to attract ships and cargo volumes, Mattala International Airport became known as the world's emptiest because of the region's inability to attract passengers, newly paved, multi-lane highways provided thoroughfares for a severe lack of vehicles, the new cricket stadium was deficient of matches, and the conference center sat empty except for the odd local wedding. All the while, this loss-making infrastructure continued consuming massive amounts of national revenue to operate and maintain.

Far from becoming the catalyst that would propel growth in Sri Lanka's lagging southern region, Hambantota has so far contributed to a monumental debt trap that's rattled the country to its financial core and prompted a recent IMF bailout. Nearly all of the infrastructure built in Hambantota was done with Chinese money, bringing Sri Lanka's debt to the superpower to the east up to over $8 billion.
Hambantota is a starkly polarizing topic in Sri Lanka. What started out as a large-scale project to turn an under-developed swath of jungle into a regional epicenter of trade turned into a symbol for opaque and allegedly corrupt government dealings, poor planning, and heated rivalries between political factions.
While the current government in Sri Lanka blames the Hambantota debacle on the former president, many of the same criticisms that they once directed towards the Rajapaksa regime have now been boomeranged back at them. Earlier this week, opposition politicians have petitioned Sri Lanka's supreme court for an inquiry into the impending Hambantota deal with China, saying that "no one seems to know what the agreement on the Hambantota port is between the Government and China" and that "even some cabinet Ministers are clueless about the deal."
However, according to an informal survey on the front page of Sri Lanka's Daily Mirror, supporters of the 80% handover of the Hambantota port currently outweigh detractors two to one.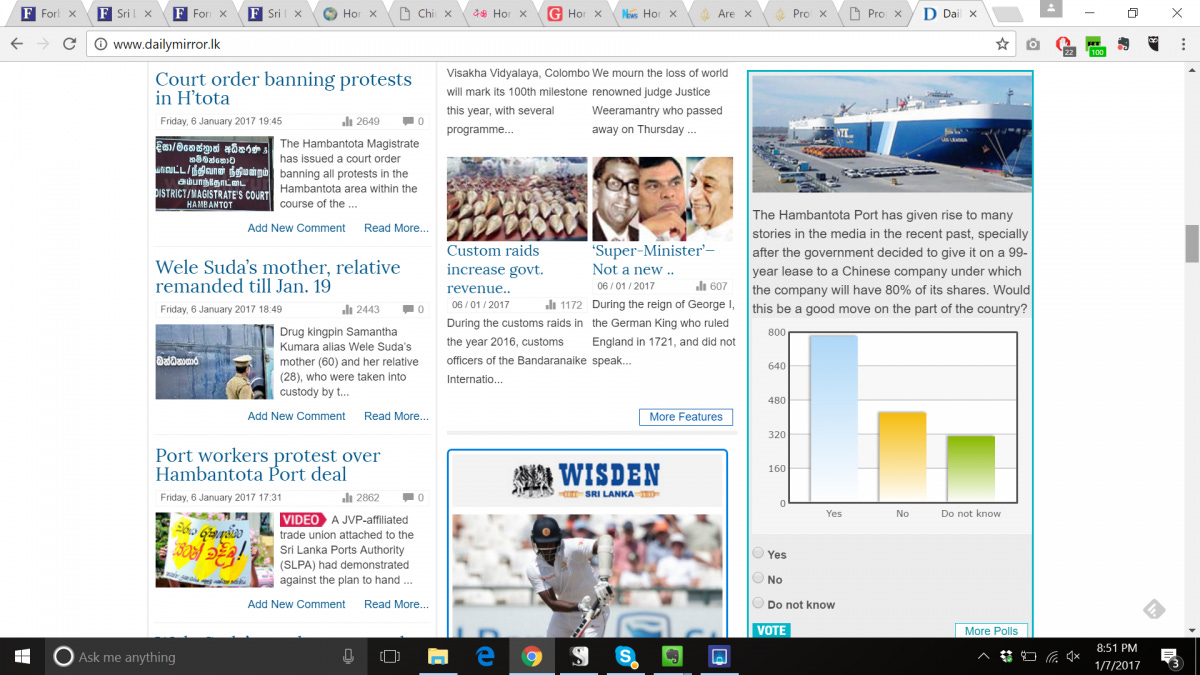 Screenshot of the Hambantota port handover survey on the front page of Sri Lanka's Daily Mirror.