Discover more from On The New Silk Road
Journeying Through China's Artery Of Power
Weekly Silk Road Roundup: April 27, 2020
And a question for subscribers.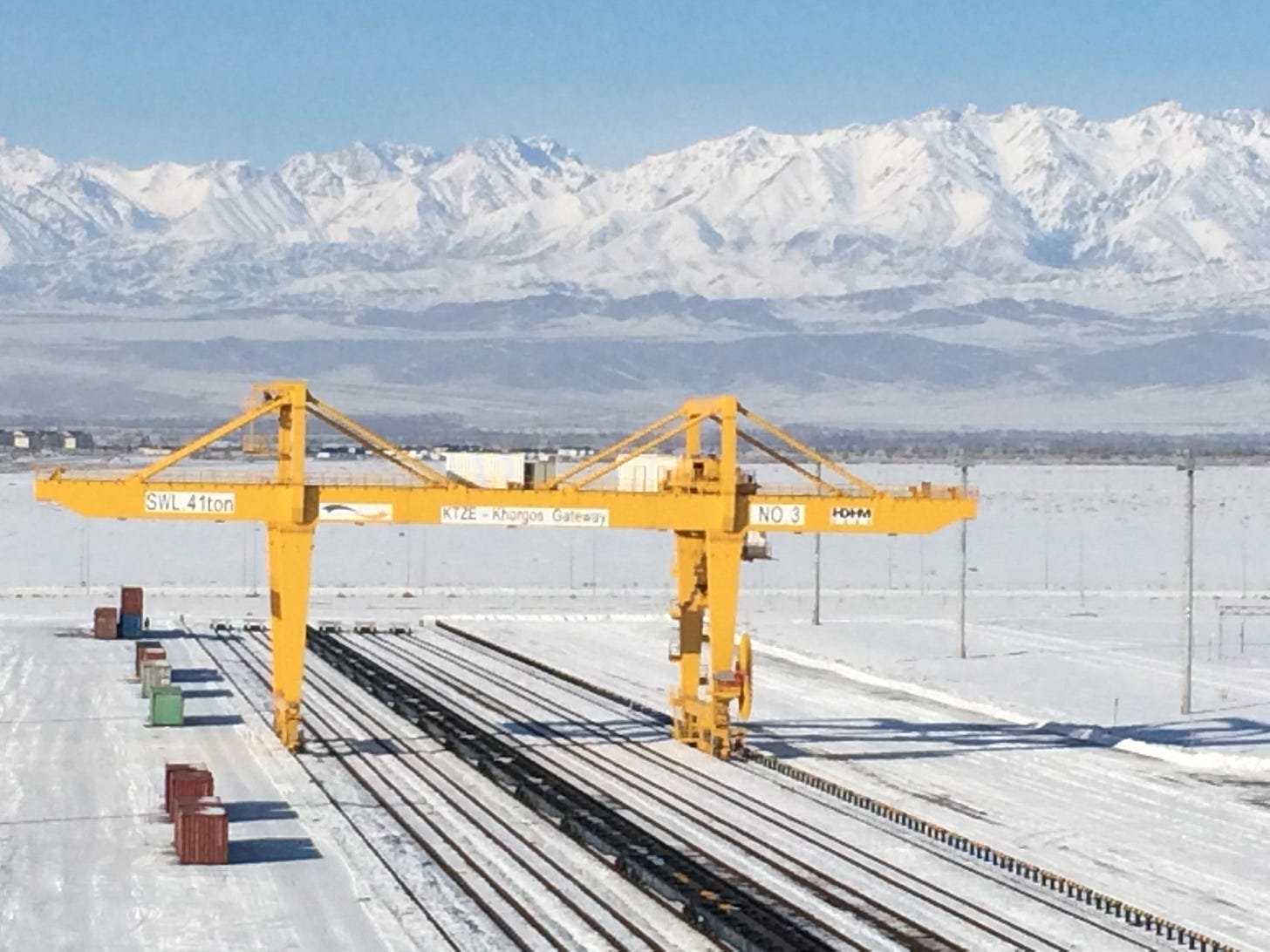 We've just concluded our third week of publishing this newsletter, and it's going pretty well so far. Many new subscribers and some pretty lively discussion in our weekly open threads. Please forgive the fact that I'm getting this roundup out a day late this week. I've never worked 9-5 before, so having a schedule is something that's a little foreign to me.
Anyway, this past week I was mostly focused on getting my Silk Road book finished. My previous publisher was bought out by Bloomsbury, which is exciting news, so I'm trying to get that manuscript finished ASAP. Therefore, I had a little less output on this newsletter than I would like. When the book is finished and when borders open and I can get on the road again, things will start spinning fast again.
My first post of the week was for paying subscribers only and was the story of an Oralman Kazakh named Sergei who headed out to the Khorgos border region to try his luck starting a bubble tea shop in a fledgling new city: To The Edge Of The Earth For Love … And Bubble Tea.
Belt and Road coverage in the mainstream media tends to be deficient in these personal, on the ground types of stories. You get all the numbers of TEU and the announcements of MOUs and all this information that makes the Silk Road seems rather sterile and a little boring. But the reality is anything but. The Silk Road is about people, first and foremost. In the words of a wise CEO who once started up a prominent Belt and Road port: "It can't only be about the containers." We sometimes forget this in the fray of big government deals and endless discussions of big picture geopolitics that ultimately have very little to do with anything.
One of the reasons why I started this newsletter was to have a platform to deliver these types of stories. It's one thing to know that some men in suits got together and signed some papers and cut some ribbons; it's quite another to know how people are actually using the new infrastructure that's being created all up and down the Silk Road. These types of stories give us a deeper impression of what is happening, and they allow us to dream … and come up with ideas. It's also where I add value.
This week I also looked into the role of less powerful, traditionally looked over countries on the New Silk Road in a story called Keystone Countries: What The New Silk Road Is All About. It's countries like Kazakhstan, Sri Lanka, and Poland are where the action is happening. I feel that how these countries are relating to / playing the dominant global powers is essential to understanding the new Great Game that the Silk Road has become. I also define what I mean by the term "New Silk Road."
I decided to cut the news roundup out of the publication stream this week. If you really liked these run downs of the Silk Road headlines just let me know. If enough subscribers are into it, then I will consider starting it back up again. The problem is this: I'm the guy who travels to places, makes friends, and finds out what's going on in the streets. I'm not the guy sitting in a room far away talking about the news all day.
Well, under normal circumstances, that is.
To be honest, I'm getting a little pent up here in New York City. I'm trying to stay rationale, sit back, and take advantage of this time to finish some big projects that were suffering due to my usually intense travel regimen. I got back from my last trip in February, and I haven't stayed in one place for so long since … probably since I first began traveling when I was 18. To sit somewhere for months on end is an odd new experience.
But, realistically, I'm probably looking at staying put until the beginning of June, and I probably won't be able to get back out on the Silk Road until July or August, at best. When those borders do open up again, I'm looking at three separate swaths of travels:
Greece—> Serbia —> Czech Republic
Uzbekistan—> Kazakhstan —> Kyrgyzstan
Thailand —> Cambodia —> Myanmar
Then I will be able to make this newsletter into what I intend for it to become.
Anyways, I have a new batch of my first book, Ghost Cities of China, coming in. If you'd a signed copy just Paypal $22.50 to vagabondsong@gmail.com (US only). If you're outside the US and would like a signed copy, just get in touch and we can discuss shipping costs.
As always, please consider becoming a paying subscriber to this newsletter, as this is what keeps these wheels spinning. Subscribers receive all posts, permission to re-publish photos and videos, access to complete interviews, private consultation, and introductions to my contacts along the Silk Road. It's a buck a week or $50 a year.
Thank you.
Walk Slow,
Wade