Discover more from On The New Silk Road
Journeying Through China's Artery Of Power
What Azerbaijan Plans To Do When The Oil Runs Out
A new path is needed.
Azerbaijan has read the writing on the wall: the oil is running out and the need to diversify its streams of economic sustenance is more vital now than ever.
Azerbaijan and oil are nearly inseparable. Azerbaijan was among the first oil producing countries in the world, and at the beginning of the 20th century it was generating half of the world's supply. That fossil fuel gave the country its reason to exist, the reason it has been repeatedly invaded, and the reason it has been able to fair relatively well economically after the dissolution of the Soviet Union. It is also the reason why the country has a shot to pull off one of the most dramatic economic turnarounds ever attempted.
And it is a turnaround that is needed: Azerbaijan has roughly 30 years of oil dependency left -- far less than Kazakhstan or Iran -- and the country is using its current resource wealth to place an all or nothing bet on developing its newly emerging transportation, agriculture, and tourism sectors.
"We understand that oil and gas are not permanent sources of income," said Dr. Vusal Gasimli, the executive director of Azerbaijan's Center for Economic Reforms and Communication. "From that point of view and the unpredictability of oil price made our country think about diversification."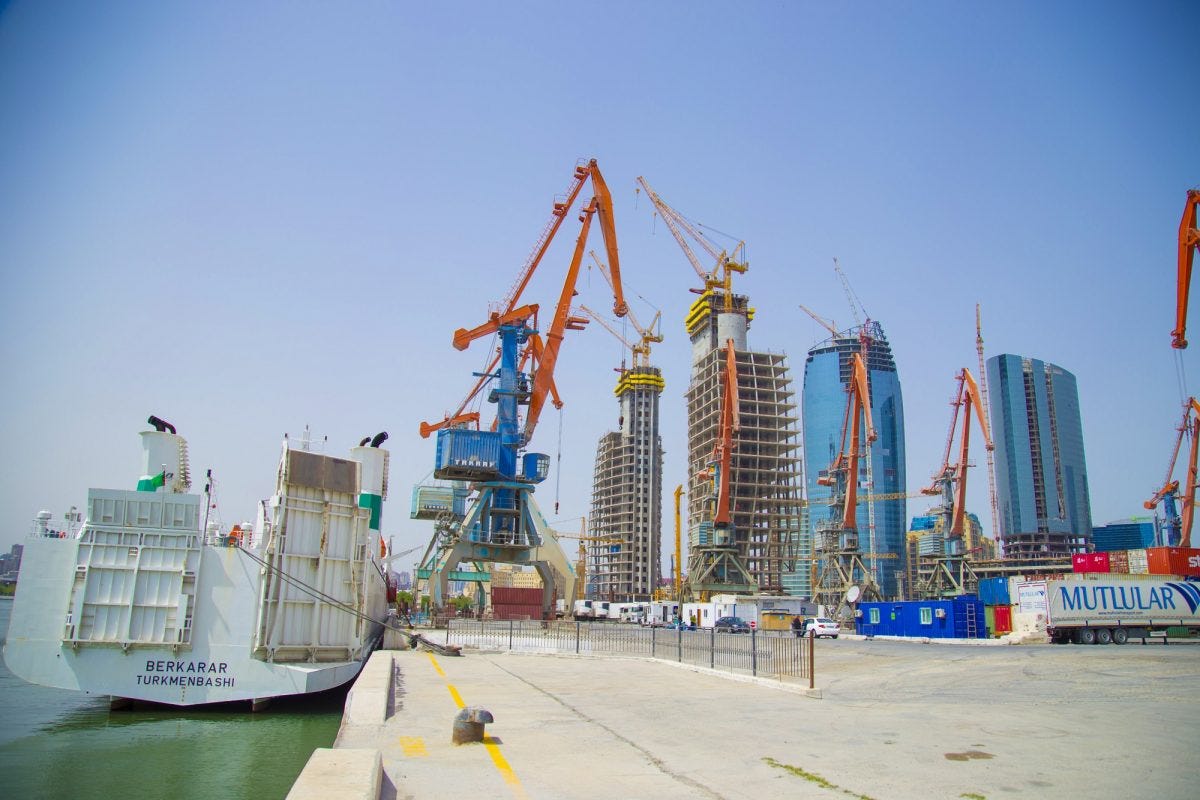 The Port of Baku. Image: Baku International Trade Port.
"The government has been thinking about post-oil or has been thinking about how we are going to position the country in addition to oil. What else are we going to do?" said Taleh Ziyadov, the Cambridge-educated director-general of the New Port of Baku at Alyat, a place which is rapidly becoming the beating heart of Azerbaijan's logistics economy.
The road forward for Azerbaijan means looking back into its history, flipping straight to the pages of what has been retroactively dubbed the Silk Road. This ancient network of trade routes and transshipment hubs is now the inspiration for a very similar network that countries from China to Europe are actively rebuilding today.
"Azerbaijan was part of the Silk Road until the Mongols came and tore it apart," said Eugene Seah, the operations manager of the New Port of Baku at Alyat. "We are putting it back together where it all started."
Like in the past, Azerbaijan is at the heart of the Silk Road network, and is aiming to turn itself into a "hub of hubs." Starting in the 2000s, the country embarked upon a national program to rejuvenate its transportation infrastructure in a bid to renew its ancient relevance as a key logistical node in the center of Eurasia. Using its mountains of petrodollars, Azerbaijan began building new highways, rail lines, airports, and sea ports across the country.
With the ambition to become a true intermodal transport hub, Baku opened one of the largest air cargo terminals in the CIS. Baku Cargo Terminal was designed to be an exact copy of the Luxembourg logistics center, and has obtained the same level of technological sophistication.
In 2011, phase one of the New Port of Baku at Alyat began. This Caspian Sea port eventually aims to handle 25 million tons of bulk cargo and 1 million TEU per year, and will include a giant free trade zone where goods can be manufactured on-site and rapidly exported.
Baku will also be one of the termini of the Baku-Tbilisi-Kars rail line, which will more directly connect Azerbaijan with Georgia, Turkey, and Europe beyond, that is slated to open early next year.
In terms of major international highways, Azerbaijan has a 503 kilometer section of the TRACECA Corridor, which connects the EU with Eastern Europe, the Caucasus, and Central Asia, and also makes up the middle stretch of the North-South Transport Corridor, which connects Russia and Iran.
There is also talk of Azerbaijan potentially creating additional free trade zones on its border regions.
"The commitment from the government must be there," Ziyadov continued, "to know that this is coming to build the infrastructure ahead of time. That's what Azerbaijan is doing. . . The first phase of the infrastructure of the country has been done."
In the beginning, it looked as if Azerbaijan was wantonly building logistical overcapacity — critics deemed that the new highways were unneeded, and at the time they may have been correct -- but now things are starting to look a little different for the transitioning nation.
"All of these investments that six or seven years ago pessimists said were useless we depend on them now," said Zaur Hasanov, the adviser to the director-general of the New Port of Baku at Alyat.
The entire overland intermodal journey between China and Europe via Baku takes roughly 15 days, which is two to three times faster than sea. Trains packed with European goods can roll into the New Port of Baku at Alyat, be loaded onto a ferry in a matter of hours and then shipped across the Caspian, where they will carry on along Silk Road corridors in Kazakhstan or Turkmenistan -- and vice versa for trains coming from China. Currently, 95% of trade between China and Europe is going by sea, completely bypassing Azerbaijan, but the type of cargo that does go overland by rail generally consists of high-value goods — such as electronics, agricultural products, meat, wine, and high-fashion items — and need to be delivered fast. It is this growing segment of the market that Azerbaijan is aiming to tap into.
Like neighboring Georgia, Azerbaijan hopes that its reestablished logistical position will create the opportunity to cash in on some key value-added potentialities.
"What we aim to do is integrate what we already have in this region, and in this region we have quite a lot of raw material, quite a lot of oil and gas, the petrochemical industry," Ziyadov said.
The long view here is to establish manufacturing centers which are located closer to their destination markets, which can enhance the global supply chain by enabling materials and products to be produced and shipped faster. So rather than making everything in East or South Asia and shipping it all the way west to Europe, a higher portion of global production will be spread across the new logistics and manufacturing hubs that are emerging throughout Central Asia, the Caucasus, and Eastern Europe.
Few places in the world are located nearer to more extensive and diverse markets than Azerbaijan. The country sits at the center of the Eurasian landmass, a geographic expanse that contains 70% of the world's population, 75% of energy resources, and 70% of GDP. Central Asia and China are to the east, Turkey and Europe are to the west, Russia is to the north, and Iran and the Middle East are to the south. On the map of Eurasia, Azerbaijan is ground zero.
In addition to a new transportation economy, Azerbaijan's non-oil ambitions involve establishing itself as a cultural hub — a crossroads not only for goods and commodities but people and cultures as well.
2016 was officially deemed to be Azerbaijan's "year of multiculturalism," which further enhanced the nation's proclivity for hosting major regional and global events. In 2012, Azerbaijan was the site of the Eurovision singing competition as well as the FIFA U-17 Women's World Cup; in 2015, the European Games were played there; in 2016, Baku saw a European Grand Prix Formula One race tear through its streets as well as the 42nd Chess Olympiad; and in a few years the city will be one of the hosts of the Euro 2020 soccer tournament. The real prize for Azerbaijan, however, is to host the Summer Olympics, for which it is a perpetual bidder (and has gone as far as preemptively constructing an entire Olympic village and several stadiums).
Azerbaijan is also investing heavily into its tourism sector, which it sees as a source of untapped potential. This includes plans to reform and streamline its current tedious, restrictive, and costly visa regime, which is a major deterrent for potential tourists who could otherwise just go to neighboring Georgia or Armenia visa-free.
However, energy exports still account for roughly three-quarters of Azerbaijan's government revenue, and the country is still very much dependent on the oil that sits beneath its surface. When oil prices began their free fall in 2014, so too did Azerbaijan's economy. This loss of revenue not only made a big dent in the national coffers but also sent the manat, Azerbaijan's currency, plunging — just as it had in Kazakhstan and Russia. Last December, Azerbaijan's Central Bank announced that it would stop propping up the manat, and it subsequently lost a third of its value within a month and continued dribbling downward to today's rate of 1.75 to the dollar — less than half of its early-2015 pegging.
This economic downturn created a new urgency for Azerbaijan to use what oil revenue it's still generating to speed up its economic diversification program.
"Developing oil rich countries have their own specific challenges that they face," Ziyadov explained. "When the oil price is up, it's fine. When it's down, it's actually a good time to reform, to look at the issues that you once didn't pay much attention to. So I'm glad that we had certain work done when the oil price was up."