Discover more from On The New Silk Road
Journeying Through China's Artery Of Power
Wuhan Reopens After Coronavirus Outbreak As The New Silk Road Prepares For A Reboot
A sign that this can really end?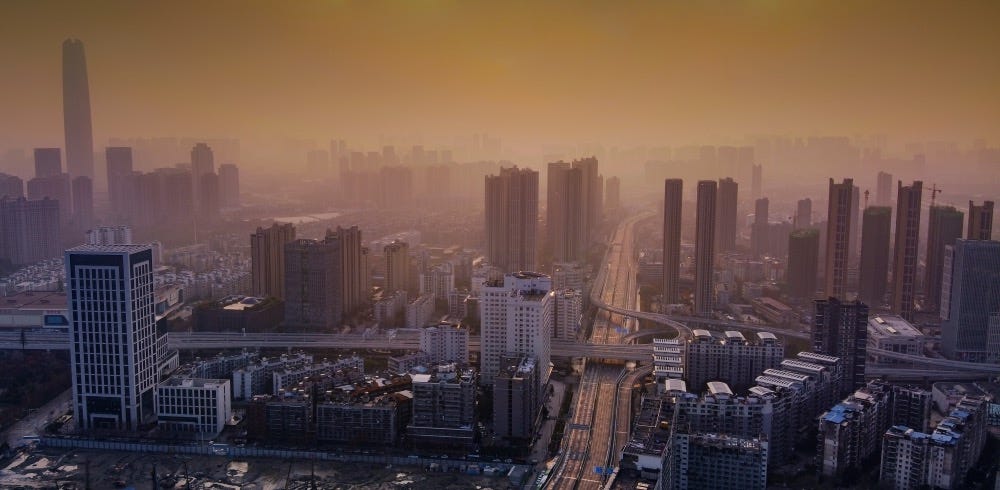 Today, 55,000 thousand people departed Wuhan by train. After 76 days of being locked down, the 11-million-person central Chinese city where the SARS-Cov-2 outbreak first appeared is taking its first steps towards reopening. People are being allowed to move in and out again, and torrents are finally getting to go back to work in the factories of the east.
This is a sign that the threat of the virus has subsided, although the city isn't completely out of the weeds yet, as worries about a resurgence keeps life from going 100% back to normal. Schools, for example, will remain closed, and some other restrictions will remain in place.
However, people are starting to celebrate:
The occasion was marked with a light show on either side of the broad Yangtze river, with skyscrapers and bridges radiating animated images of health workers aiding patients, along with one displaying the words "heroic city," a title bestowed on Wuhan by president and Communist Party leader Xi Jinping. Along the embankments and bridges, citizens waved flags, chanted "Wuhan, let's go!" and sang a capella renditions of China's national anthem.

"I haven't been outside for more than 70 days," said an emotional Tong Zhengkun, who was watching the display from a bridge. Residents in his apartment complex had contracted COVID-19, so the entire building was shut down. He couldn't go out even to buy groceries, which neighborhood workers brought to his door.

"Being indoors for so long drove me crazy," he said..
Photojournalist Gerry Yin did some incredible work portraying what the lock down was like in Wuhan:
When I arrived in Wuhan on Feb. 16, my eyes were immediately drawn to the bright yellow barriers I saw everywhere I went. Erected days prior in an attempt to cut off transmission of COVID-19, they had transformed the city into an archipelago of walled-off residential compounds. It was an eye-catching defense for an invisible foe.

At first, I saw the barriers as symbols, yellow warnings of the city's confinement. What went on behind them was a mystery: They were almost exactly the height of the average adult male, meaning you had no idea who, if anyone, was on the other side.

Yet even in a pandemic, life goes on, and walls can't keep people apart indefinitely. As the city brought the outbreak under control, residents started to break through the barriers that separated them — sometimes literally, using drills.
I don't know if we've seen the equivalent of such a lock down in modern times. It is going to be interesting catching up on the stories of what actually happened inside as Wuhan continues reopening. Whatever the case, it makes New York City's "lock down" seem tame and makes me feel fortunate that the biggest hassle that I have to endure is waiting 20 minutes in a well spaced apart line to enter the grocery store.
Raymond Zhong and Vivian Wang reported on the NY Times about the potential lasting effects:
But the city that has reopened after more than 10 weeks is a profoundly damaged one, a place whose recovery will be watched worldwide for lessons on how populations move past pain and calamity of such staggering magnitude.

In Wuhan, sickness and death have touched hundreds of thousands of lives, imprinting them with trauma that could linger for decades. Businesses, even those that have reopened, face a wrenching road ahead, with sluggishness likely to persist. Neighborhood authorities continue to regulate people's comings and goings, with no return to normalcy in sight.

The Chinese authorities sealed off Wuhan, an industrial hub of 11 million people, in late January, in a frantic attempt to limit the outbreak's spread. At the time, many outsiders saw it as an extreme step, one that could be tried only in an authoritarian system like China's. But as the epidemic has worsened, governments around the world have enacted a variety of stringent restrictions on their citizens' movements.
From Brenda Goh at Reuters:
But conversations with residents like Li and others suggest that it is far from simple. Many are still coming to terms with the scars of an outbreak that saw Wuhan account for 61% of the 81,708 reported cases in China.

Some are counting the costs of lengthy business shutdowns, while others still fear infection, especially from asymptomatic patients, and are reluctant to leave their homes.

It is also unclear what the Chinese government plans to do to rejuvenate the city, how it will commemorate what residents now describe as a "great calamity", and whether more will be done to hold the city government accountable for the outbreak's severity. The Wuhan government did not immediately respond to a request for comment.
Wuhan on the New Silk Road
While Wuhan wasn't really part of the ancient Silk Road, on the 21st Century's iteration it is filling a major role. The city has a direct cargo rail link to Europe (which just restarted at the end of March) and is a major hub in China for European manufacturers — particularly those from France and in the automotive industry.
Along with Chongqing, Chengdu, and Xi'an, Wuhan is one of a group of cities in central China that stands to benefit the most from Silk Road infrastructure. During Beijing's "Go West" policy of the early 2000s, large numbers of factories took government incentives to move inland from the coast, and, upon arrival, quickly found themselves in a logistical pickle: Are we really going to move products a thousand kilometers east just to ship them west again? A new solution was needed, and throughout the decade China's backdoor was slowly opened and overland transport routes to Europe were created. Since then, Wuhan's economic ties with Europe have grown exponentially.
Unfortunately, Wuhan has always been a city in the interior of China that I've somewhat ignored. While I have been there a couple of times while doing my ghost cities research, my gaze was always directed more towards Chengdu, Chongqing, and Changsha. One of my only memories of Wuhan is yelling at a bum who attempted to steal my coffee in a McDonald's.
Apparently, I also "found out the hard way that it is another car-choked, old Chinese city that is currently giving urban designers headaches as to how to adapt it to the automobile age."
I had to transfer from Hankou station to Wuchang, a move that would pretty much take me across the city. Wuhan is historically three different cities separated by the Yangtze and Han rivers that grew together. I took the metro for most of the way and then emerged roughly two or three kilometers from the station. The line that goes all the way to the station is still in the process of being constructed, so I initially endeavored to just walk this span. I was not really in a hurry, my only preference was to make Changsha by nightfall, and it was still early in the day.

I began walking, but the jam packed highway-landia coupled with road-side construction demanded that I trod in the road. Not a good place to be, not only for safety reasons but because of sensual ones as well: it's just not enjoyable walking down a crowded highway where cars are roaring past you on one side and the jackhammers are going full tilt on the other. A taxi would cost about a buck, and I am not so tight-fisted as to not not pay this small amount to be out of that situation.

That was until I got in a cab and we started moving — or, I should say, started sitting.

I became convinced that the pace of traffic was slower than that of my natural gait, and I momentarily considered jumping out of the taxi to complete the short journey on foot. But I held my rashness in check, as much out of curiosity of how truly long it would take to go the few blocks to the station as anything else. In the big cities of this world is has become a prevailing myth that cars can always get you to your destination faster. I kicked myself in the ass for not bringing my folding bicycle on this trip.
I wish I got to know Wuhan a little better, as this pandemic seems to have really changed the face of the place. However, the modernization / techno-ization of the city probably had a bigger impact … and I feel as if I already have enough nostalgic memories of old-time Chinese cities that bulldozed their charm overnight.
As I was digging though my travel notes looking for anything about Wuhan, I found an old blog post from 2014 where I mentioned city. The post was about the emergence of American / Chinese cinema, which is often funded by Beijing to increase awareness (soft power) of the country abroad:
China is pushing its soft power globally. The Mandarin language, Chinese geography, news, and culture will increasingly be in the face of everybody on every stretch of the planet. You will know all about Guangzhou, you will know the skylines of Beijing, Shanghai, Tianjin, and Shenzhen, your kids will talk about Changsha, they may even look up at you and ask where Wuhan is — and there is a reasonable chance that you will be able to explain to them that, "Wuhan is a megacity in China that sits between Nanjing and Chongqing on the Chang Jiang."
Well, this has happened. Although not for the reasons that I imagined.